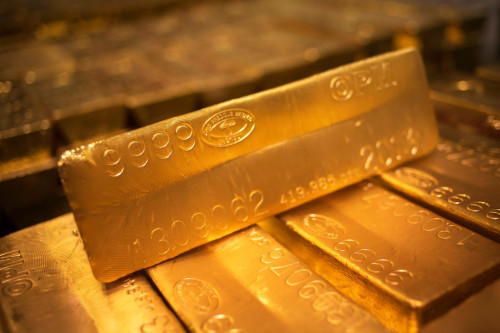 Gold prices are set to rise further next week.
Gold futures logged one of their largest weekly increases in six months this week, and are expected to build on those gains in the coming week.
As many as 20 of 26 analysts polled in a Kitco Gold Survey said they expected gold prices to rise, while three predicted that prices would drop and three forecast prices to remain unchanged.
Concerns about the pace of the US economic recovery and the turbulence in emerging markets, in the wake of the US Federal Reserve's stimulus taper, boosted gold's safe-haven investment appeal.
Jeffrey Nichols, managing director, American Precious Metals Advisors, told Kitco: "The gold rally has legs with upward momentum established and bouts of short covering from (an) extreme oversold situation likely to continue. With German and French indicators showing more life, the dollar/euro exchange rate could weaken to gold's advantage."
Adrian Day, chairman and chief executive officer, Adrian Day Asset Management, said: "News out of Washington this week is very bullish for gold: Fed [chief Janet] Yellen was very dovish, and made clear that monetary policy would continue to be very easy, notwithstanding her indication [to] continue the taper; and the Republican Party backed away from a budget fight raising the debt ceiling with a few items of spending attached. Without the discipline of 'sequester,' spending and the debt will move back up. And I suspect that in the coming months, the Federal Reserve will 'taper the taper'... cut back on the monthly reduction or skip a month. That would be bullish for gold."
Gold Ends Higher
Spot gold jumped 1.2% at $1,318 an ounce on 15 February.
US gold futures for delivery in April finished $18.50 higher at $1,318.60 an ounce on 15 February.
For the week as a whole, US futures surged 4.2%, the highest gain since mid-August 2013.
Downbeat US economic data boosted the yellow metal's safe-haven demand, with holdings in the biggest exchange-traded product (ETP) expanding to a near two-month high.
SPDR Expands
Assets in the SPDR Gold Trust expanded 1.2% to 806.35 metric tons, the highest since 20 December, 2013.
Assets in the biggest ETP backed by gold, down 41% last year, are up 1.2% this week and were on track for their third weekly advance.
China Stockpile
Data showed earlier in the week that China imported and produced more gold in 2013 than its consumers bought.
China imported 1,158 tonnes of gold through Hong Kong in 2013, more than double its 2012 total; and also imported gold through Shanghai but those numbers are not available.
Meanwhile, domestic production rose over 6% to 428.16 tonnes in 2013, the China Gold Association (CGA) said on 10 February.
However, gold consumption hovered at 1,176.4 tonnes.