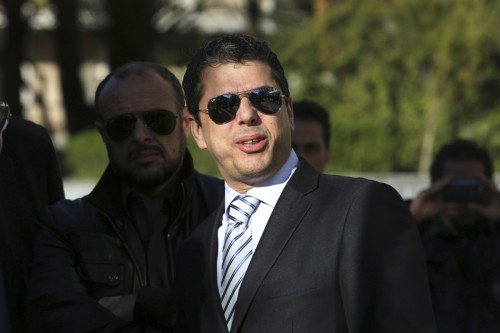 Three more far-right Golden Dawn MPs have been arrested as part of an investigation into the alleged criminal activities of the group.
The detention of Stathis Boukouras, Yorgos Germenis and Panagiotis Iliopoulos on charges of being part of a criminal organisation means that a third of the party's 18 lawmakers are now behind bars.
The case was triggered by the murder of anti-fascist rapper Pavlos Fyssas, nicknamed Killah P. Among those awaiting trial is the party leader, Nikos Michaloliakos,
The lawyer for Iliopoulos said: "We will not buckle. Golden Dawn will be victorious – Greece will be victorious".
Boukouras' lawyer Alexis Kougias warned that Greece was "heading to a democratic breakdown".
The neo-Nazi party said that the custody of its members was "illegal and unconstitutional" and announced that it would present documents at the European Court of Human Rights (ECHR) showing how the "scheme against Golden Dawn was set up".
Golden Dawn has always denied any role in the killing of Fyssas. Police arrested a 45-year-old supporter of Golden Dawn, George Roupakias, over the murder.
Party supporters gathered outside the magistrate's office waving flags and chanting the party's slogan "Blood, Honor, Golden Dawn".
Journalists asked the party spokesman Ilias Kasidiaris, who had been charged in connection with the probe but was not in custody, to denounce Golden Dawn supporters who threw bottles of water and shouted death threats against members of the media.
Golden Dawn remains the third most popular party in Greece and has seen a jump in its approval rating.