Neo-Nazi Golden Dawn Recruits Children in 'National Awakening' History Course
Children aged 6 to 10 taught about Greek ideals and ancient gods in controversial programme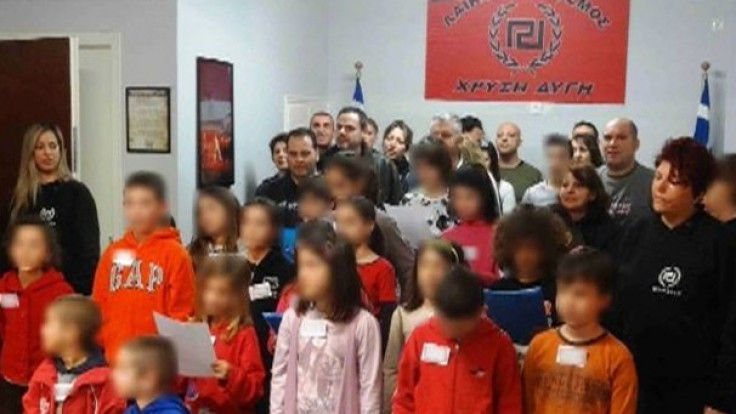 Greece's neo-Nazi Golden Dawn party has been accused of launching a child indoctrination course dubbed a "national awakening" for children aged 6-10.
More than 20 children took part in Greek history lessons at the party's offices in Artemida, eastern Attica, it said. They were shown educational videos, taught "Greek ideals" and told about the virtues of the ancient Greek gods, Christianity and the Greek Orthodox church.
The government slammed the party's decision to actively recruit elementary school students. The education ministry said no party had the right to "manipulate" children. The main opposition, the radical left Syriza party, accused Golden Dawn of "brainwashing little tots with Nazi propaganda".
But Golden Dawn spokesman Ilias Kasidiaris said it would continue providing lessons.
"Our decision to teach Greek mythology to young fans of Golden Dawn has provoked the reaction of the puppets in the media and government," he said. "Unfortunately for them, we will continue such events with history lessons."
A noted historian on Greece, Columbia University professor Mark Mazower, also warned of the dangers of Golden Dawn teaching children. The party's leader Nikolaos Michaloliakos called Adolf Hitler "a great personality in history" and denied that the Holocaust had happened.
Revelations about Golden Dawn's schooling came after primary teachers in the Athens suburb of Nea Philadelphia accused the party of trying to interfere in their work. Golden Dawn had asked the education ministry to investigate an art assignment for children on the challenges facing refugees.
Some 30,000 black-clad neo-Nazis rallied in Athens in January in support of Golden Dawn, Reuters reported. Labelled a remembrance rally, the event was held to honour three "fallen heroes" of the party.
© Copyright IBTimes 2023. All rights reserved.