Google is offering credit cards to small and medium businesses in order to fund its advertising needs.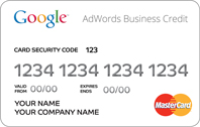 Launching today in the UK, the Google AdWords Business Credit Card is designed to ensure SMEs use Google in their online advertising campaigns.
Google has already been a part of the financial services sector for a while with Google Wallet, an online payment system of the likes of Paypal. Last year, the company launched a pilot programme in the US lending money to SMEs, in the hope of encouraging firms in this bracket to buy more advertising space online.
Businesses will be able to borrow between $200 and $10,000 a month at an initial rate of 11.9 for the UK and 8.99 for the US.
The service launched in the UK today and is set to start in the US in the following weeks, with more countries to be announced soon.
AdWords is a proprietary Google advertising system which places text next to online search results. It made Google $37 billion in revenue last year; however small businesses have not been using it as much as big companies.
Brent Callinicos, treasurer at Google, said the programme was not run in order to make a profit, reported the Financial Times. Instead, Google simply sees it as helping businesses with their online marketing.
Recently Amazon also launched into the world of financial services, offering loans to independent sellers on its marketplace.
According to The Telegraph, Google is soon to close a £550 million deal for new headquarters near Kings Cross. The company's current London headquarters are situated on Buckingham Palace Road, supplemented by an office in Soho and a campus near Old Street Roundabout which is used as a space for other start-ups.