Google Chrome for iPhone and iPad Released [VIDEO]
MacBook Air crashes blamed on graphics issue in Chrome browser
Google has launched a version of the Chrome web browser for the Apple iPad, iPhone and iPod Touch and it is already the number one app in the App Store.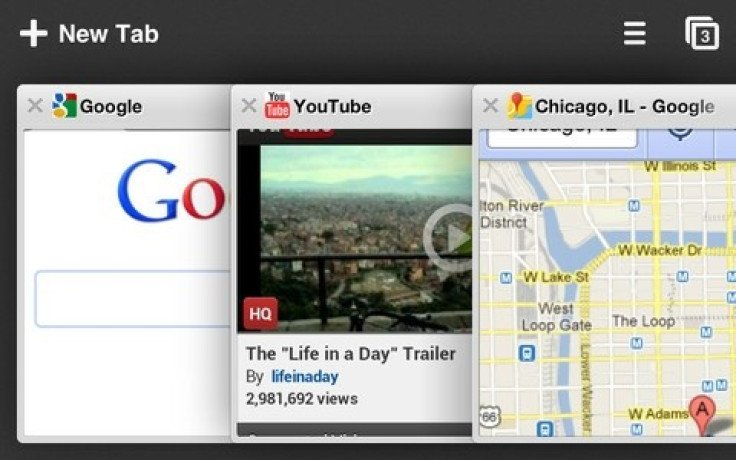 Google told its I/O Developers Forum that the Chrome browser had seen "tremendous adoption" and the number of active users had nearly doubled in a year, from 160 million to 310 million around the world.
Launching its first iOS app, Google has seen its free download for iOS devices shoot to the top of the iTunes chart.
Chrome for iOS will synchronise a user's tabs, web history and passwords with the desktop version of the web browser.
"You can start something in one place and pick it back up somewhere else just where you left off," says a Google promotional video.
The Google Chrome browser for iOS is a 12.8MB download that runs on Apple iPhones, iPod Touch players and iPads running version 4.3 of the iOS operating system or higher.
It supports 50 languages, including Arabic, Bokmål, Catalan, Chinese, Hebrew, Japanese, Russian, Swahili, Tamil and Vietnamese.
Google's Sundar Pichai also announced that the online Docs word processor would now be available for offline use.
That follows news from Google's keynote speech that other features such as offline dictation would be made available for its Android phones and tablets.
Chrome for Mac OS X problems
However, the Mac OS X version of the Chrome browser built for Apple Mac computers has come under fire over the past few days.
Many MacBook Air users have experienced system crashes or computer freezes when using the Chrome web browser and the problem has been traced to a graphics issue.
"We have identified a leak of graphics resources in the Chrome browser related to the drawing of plugins on Mac OS X. Work is proceeding to find and fix the root cause of the leak," a Google spokesman told Gizmodo.
"The resource leak is causing a kernel panic on Mac hardware containing the Intel HD 4000 graphics chip."
Google has disabled some GPU acceleration within Chrome as a temporary fix and has also filed an official bug report with Apple as it said the graphics leak should not be enough to crash or freeze the system on its own.
© Copyright IBTimes 2023. All rights reserved.