Google is donating 15,000 Raspberry Pi microcomputers to UK schools in a bid to introduce more children to computer science.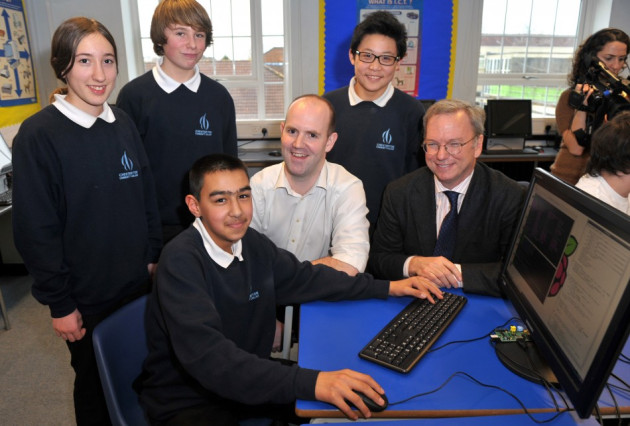 The partnership was announced at Chesterton Community College in Cambridge where Google chairman Eric Schmidt and Raspberry Pi co-founder Eben Upton offered coding lessons to students and spoke about the new initiative.
"We hope that our new partnership with Google will be a significant moment in the development of computing education in the UK," Upton told the BBC. "We believe that this can turn around the year-on-year decline in the numbers and skill sets of students applying to read computer science at university."
"Britain's innovators and entrepreneurs have changed the world - the telephone, television and computers were all invented here," continued Schmidt. "We have been working to encourage the next generation of computer scientists and we hope this donation to British school pupils will help drive a new wave of innovation."
The amount of university students studying computer science has dropped by 23 percent at undergraduate level and 34 percent at the graduate level over the last decade, and this was one of the driving forces behind the creation of the Raspberry Pi Foundation in the first place.
Concerns around the ICT curriculum teaching children to use rather than create computer programs have been raised by several prominent technology representatives, including Eidos life-president Ian Livingstone who, at the launch of the Off the Map project earlier this month said that current ICT classes "teach children to read but not write."
Microsoft has also raised the importance of computer science in schools, with Steve Beswick, the company's director of education telling the BBC that learning to program is as important as any other science:
"Computer science is something that we [Microsoft] have been calling the 'fourth science' for some time. We believe that it is every bit as important as physics, chemistry and biology. By formally introducing children to computer science basics at primary school, we stand a far greater chance of increasing the numbers taking the subject through to degree level and ultimately the world of work."
Exploiting
However, an unnamed representative from the National Union for Teachers has accused big technology companies of exploiting the ICT curriculum to market their products and attract young consumers:
"Schools are increasingly being used as marketing venues by companies promoting their own brands in return for teaching resources, books, sports equipment or computers," the representative said.
"Commercial sponsorship of school resources and equipment and their involvement in training can actively undermine teachers' efforts to educate children about the dangers of manipulation and commercial exploitation."
On the official Raspberry Pi Blog, Liz Upton said:
"We're absolutely made up over the news; this is a brilliant way for us to find kids all over the country whose aptitude for computing can now be explored properly. We believe that access to tools is a fundamental necessity in finding out who you are and what you're good at. We want those tools to be within everybody's grasp, right from the start."
Created by Eben Upton and videogame developer David Braben, the Raspberry Pi is a single board computer which costs only £25 to buy. Google will distribute the 15,000 donated Pis to schools across the UK while the awards body OCR will contribute 15,000 free teaching and learning packs to go with the micro computers.