Routemaster Bus 60th Anniversary Celebrated With Google Doodle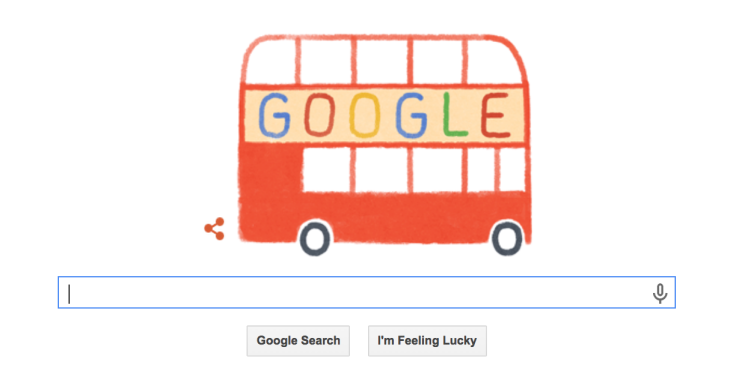 Sixty years to the day that the first ever Routemaster bus was shown to the public, Google has replaced the logo on its homepage with an image of the iconic red London bus.
Today's Google Doodle is the latest collaboration to mark Transport for London's (TfL's) Year of the Bus, a celebration of "the role that London buses, bus drivers and the staff who support them play in keeping the capital moving."
Leon Daniels, TfL's Managing Director for Surface Transport, said: "I'm delighted that London's iconic Routemaster bus will join the London Underground in being honoured with a Google Doodle. It's a hugely fitting tribute to the backbone of the capital's transport network and definitely one of the highlights so far in 2014's Year of the Bus."
The Routemaster bus was first unveiled to the public at the Earl's Court Commercial Motor Exhibition on 24 September, 1954. However construction of production vehicles didn't get under way until 1959. In total 2,760 Routemaster buses were built for London with production ending in 1968.
As well as celebrating 60 years since the creation of the original Routemaster, the Year of the Bus also marks 75 years since the launch of its predecessor the RT-type bus and 100 years since hundreds of London buses were sent to the Western Front to play a crucial role during the First World War.
Battle Bus
Events and activities are being held throughout 2014 to celebrate the Year of the Bus. This week, a 'Battle Bus' restored in its original livery set off for the battlefields of France and Belgium to commemorate the centenary of the outbreak of the First World War. And in June the Regent Street Bus Cavalcade gave an estimated 400,000 people the chance to view around 50 of the most celebrated buses of the last two centuries as they gathered in the heart of London's West End.
Other Year of the Bus partnerships have included a unique collaboration with the world-famous Fender Stratocaster guitar – also celebrating its 60th anniversary this year – and the installation of an operational bus stop and shelter on Regent Street made entirely out of Lego.
The Year of the Bus has also seen the first ever series of live music performances on board a New Routemaster bus as part of Oxjam, and 'bus stop top' exhibitions along the Strand from renowned photographers Juergen Teller and David LaChapelle.
Events still to come include the Year of the Bus Sculpture Trail which will see up to 60 New Routemaster bus sculptures, painted and adorned by well-known and aspiring artists, on show in the capital from Monday, 20 October and auctioned for charity in the new year.
© Copyright IBTimes 2023. All rights reserved.