The much-rumoured Google Nexus 4 smartphone has been revealed online, as retailer Carphone Warehouse seems to have mistakenly posted the smartphone on its website.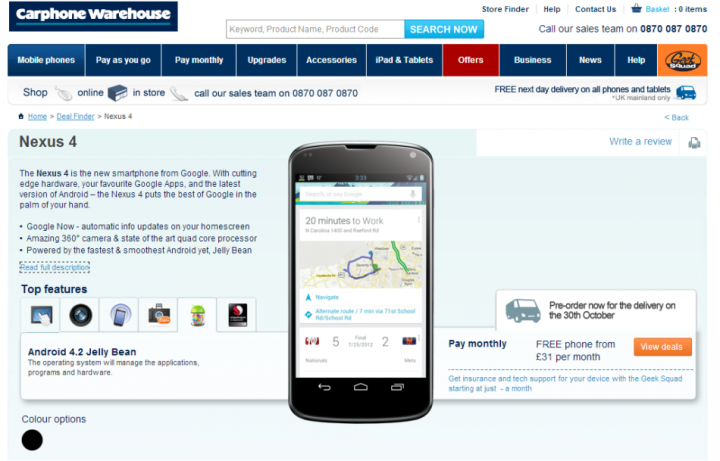 Four days before Google is set to hold a press event in New York to showcase new Nexus products, the Nexus 4 by LG has appeared online, featuring a 4.7in display with a resolution of 1280 x 768 and a pixel density of 320 pixels per inch.
The phone is fairly chunky at 9.1mm thick, compared to the 7.6mm iPhone 5, and that screen is coated in protective Gorilla glass. The phone measures 68.7mm wide and 133.9mm tall, while the weight is not yet known.
On the inside, the Nexus 4 has a 1.5GHz Snapdragon S4 processor with 2GB of RAM, 8GB of internal storage, NFC, and it runs Android 4.2 Jelly Bean - 4G LTE is missing from the phone specifications list.
LG has installed an 8-megapixel camera with LED flash, autofocus and it's capable of full 1080p HD video recording at 30 frames per second, and there is a front-facing camera of as-yet unknown quality.
Although the product specifications states the Nexus 4 has Android 4.1.2, the product overview page mentions an as-yet unannounced Android 4.2.
The Carphone Warehouse website says:
"The fastest and smoothest version of Android yet - Jelly Bean - improves on the simplicity and beauty of Android 4.0, and introduces a new Google search experience. Making the things you do on your device, more simple and fun. Because this is a Nexus device, it gets Android updates faster than other phones, so when a new update is available with new features and improvements, you can get it straight away."
The Nexus 4 is free on O2 and Vodafone contracts of at least £31-per-month, but a SIM-free price is not yet known, and the website claims it can be pre-ordered now for a 30 October delivery.
There's also the usual smartphone features, such as Wi-Fi, GPS and Bluetooth, along with a proximity sensor and ambient light sensor.
Google is hosting a press event in New York on 29 October, where it is expected to announce the Nexus 4, Android 4.2 and possibly more hardware, too.
UPDATE: The Verge claims to have been sent an image of Carphone Warehouse's computer system, which shows that the Nexus 4 will be available in black and white, and will cost £389.95 SIM-free.
UPDATE 2: Carphone Warehouse has now removed the Nexus 4 from its website.