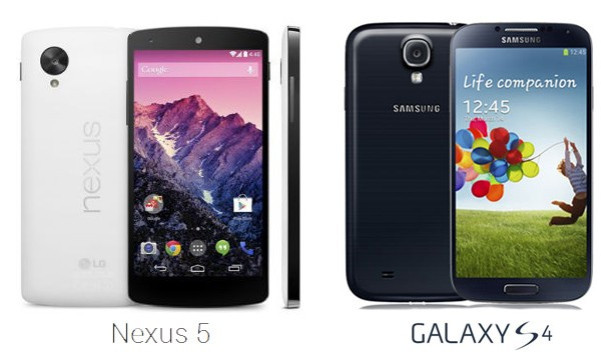 Comparing the Google Nexus 5 with the Samsung Galaxy S4, which cost twice as much when it launched, shouldn't really be possible - but the search giant has a proven track record for making its Nexus devices far better than their prices would have you believe.
Nexus 5 vs Galaxy S4: Hardware
At a glance both phones are fairly similar to look at. Both have 5in screens; both are made from plastic and glass; both weigh 130g, and they are roughly the same size.
At 7.9mm, the Galaxy S4 is slightly thinner than the 8.6mm Nexus 5, while both have an almost identical footprint; 137 x 70mm for the Samsung and 138 x 69mm for the Nexus.
Where Samsung uses a physical Home button for the S4, flanked by two capacitive touch buttons for Back and Menu, LG - manufacturer of the Nexus 5 - has located all three buttons on the display itself.
Around the back, the S4 is glossy plastic and the Nexus has a rubberised matte black finish. When it comes to design, neither manufacturer is right nor wrong, and you'd have to be incredibly picky to opt for one device over the other based on looks alone.
Nexus 5 vs Galaxy S4: Display
The Nexus 5's screen is fractionally smaller than the Samsung's - 4.95in compared to 5in - but realistically no user is going to notice this. More importantly, both phones have a HD resolution of 1920 x 1080 and pixel density of just over 440 pixels per inch (ppi).
The only real difference between the two screens is the technology they use. The Samsung uses Super AMOLED, which produces incredibly bright and sharp images, but can leave colours over-saturated and make the already-bright TouchWiz user interface appear cartoonish.
On the other hand, the Nexus 5's screen uses a True HD IPS Plus display, and while we're yet to try the phone out for ourselves, this should help colours to appear more natural and less in-your-face than with the Samsung.
Nexus 5 vs Galaxy S4: Camera
In meeting the £299 SIM-free price of the Nexus 5, Google and LG have had to make compromises, and early reports suggest the camera is where cutbacks are most strongly felt. Last year's Nexus 4 had a camera best described as good-but-not-great, and in keeping the same 8 megapixel sensor size for a second year, we can expect a similar story for the Nexus 5.
LG has at least added optical image stabilisation for the Nexus 5, which should help to make photos sharper and improve low-light performance, allowing the shutter to stay open for longer, capturing more light without becoming blurry.
Samsung has installed a 13-megapixel sensor on the Galaxy S4, and a huge suite of photography features unrivalled by all other smartphones. In our review we found the S4's camera to be excellent, capable of taking pin-sharp pictures even before you start messing around with the huge range of features/gimmicks on offer.
The Nexus 5's front-facing camera is 1.3 megapixel, while the Samsung's is slightly higher at 2 megapixels.
Nexus 5 vs Galaxy S4: Performance
Samsung offers the Galaxy S4 with two different processors depending on region, but in the UK it's powered by a quad-core, 1.9GHz Snapdragon 800 chip with 2GB of RAM.
The Nexus 5 uses the same Snapdragon 800 processor with 2GB of RAM, but runs it slightly faster at 2.3GHz. This should make for excellent performance from the Nexus 5, and because it runs a pure version of Android - without Samsung's TouchWiz smothered over it - the Google phone should be incredibly smooth and responsive to use.
Lastly, both phones are offered with either 16GB or 32GB of storage, but where the Samsung can accept a further 64GB via its microSD card slot, the Nexus 5 offers no such luxury.
Nexus 5 vs Galaxy S4: Software
As mentioned above, both smartphones run Android and both will have access to the newest version, Android 4.4 (KitKat). The Nexus 5 is shipping with KitKat now, and we can expect Samsung to release an update for the S4 in the coming months.
Comparing the two phones right now, the biggest difference is the Samsung's use of TouchWiz. In modifying the lock screen, application drawer, notification window, camera and almost every aspect of the Android's user interface, Samsung has created its own identity in a crowded marketplace.
But TouchWiz isn't for everyone, and no matter how much work Samsung puts in, it can never quite replicate the speed and simplicity of standard Android - at least in our opinion.
Nexus 5 vs Galaxy S4: Price
Now we come to the Nexus 5's trump card - it's price. Google is selling the 16GB version for £299 and the 32GB model for £339, both SIM-free.
When the Galaxy S4 arrived earlier this year it was priced between £550 and £600. In the six months since then prices have fallen to around £400 SIM-free, but that still makes it £100 more (and six months older) than the Nexus 5, making the Google phone undoubtedly the best-value smartphone on sale.
Which should I choose?
Assuming you have opted for Android over iOS and Windows Phone, the decision here comes down to price, software and the camera.
As mentioned above, TouchWiz isn't for everyone and if it's standard Android you want, then the Nexus 5 is the phone for you. If however, you own other Samsung products and like the familiarity of their design - both hardware and software - then the S4 will meet your expectations and feel immediately familiar.
The Galaxy S4 also wins if photography is a must for you, thanks to its larger image sensor and wide range of features.
But, if you want the best value for money it's almost impossible to look past the Nexus 5. It has an almost identical screen, the same processor and, when stripped back to basics, the same operating system as the S4, yet it is £100 cheaper.