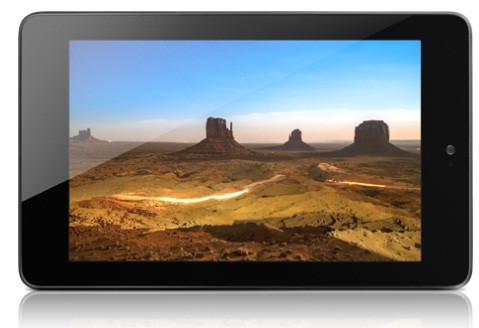 Announced at the company's I/O developers' conference, the Google Nexus 7 will be available in the US, UK, Canadian and Australian markets from mid-July. More details regarding pre-orders and sale packages were reported on in an earlier IBTimes UK report.
Meanwhile, check out how the new Google Nexus 7 does in a comparison of specifications against the Blackberry Playbook
Display
The Blackberry PlayBook features a 7.0in multi-touch capacitive touchscreen with a resolution of 600 x 1024 pixels and a pixel density of 170 pixels per inch (ppi). The Google Nexus 7 features a 7in LED-backlit In-Plane Switching (IPS) LCD capacitive touchscreen which is covered by scratch-resistant Corning Gorilla Glass and has a resolution of 800 x 1280 pixels with a pixel density of 216ppi.
Dimensions
The PlayBook measures 194 x 130 x 10mm and weighs 425g whereas the dimensions of the Nexus 7 are 198.5 x 120 x 10.45mm and it weighs 340g. The Nexus 7 weighs about the same as Samsung's 7in tablets.
Operating System
The PlayBook runs on Blackberry's native software - Blackberry OS v1.0. This is now upgradeable to v2.0, which was announced in February. The revised features of the software include a native email client, enhanced BlackBerry Bridge, Contacts and Calendar apps. In addition, RIM updated the Documents To Go section, adding a Print To Go option, according to The Verge.
The Nexus 7, meanwhile, will run on the new Android 4.1 (Jelly Bean) software, making it the device first to do so. The software update will bring a revamped User Interface (UI) and a better notifications system and home screen management, as well as an improved voice search, text input with offline voice typing, camera and enhanced Android Beam app.
Processor
The PlayBook is powered by a Texas Instrument (TI) OMAP 4430 dual-core Cortex-A9 processor clocked at 1GHz. This is the same processor which powers the Kindle Fire and the Samsung Galaxy Tab 2 7.0. The Nexus 7 will run on the Nvidia Tegra 3 quad-core Cortex-A9 processor, which has been clocked at 1.3GHz. Both tablets house 1GB of RAM.
Camera
The PlayBook sports a five megapixel rear-facing camera and a three megapixel front camera. Both cameras can capture videos at 1080p and 30 frames per second (fps). The device's rear-facing camera is the highest in its class. The Google Nexus 7 has a 1.2 megapixel front-facing camera for video calls and can capture videos at 720p. The device does not have a rear camera. A report by CNET quoted Patrick Brady, the director of Android Partner Engineering for Google, as saying the front camera was one of the Google Nexus 7's selling points, compared to the Amazon Kindle.
Connectivity
The PlayBook offers Wi-Fi 802.11 a/b/g/n and Bluetooth version 2.1 with EDR (Enhanced Data Rate). The Nexus 7 will offer Wi-Fi 802.11 a/b/g/n, Bluetooth and Near Field Communication (NFC). Neither tablet offers 3G connectivity, unlike Samsung's 7in tablets.
Storage
The PlayBook offers three models - 16GB/32GB/64GB. The Nexus 7 has only two - 8/16GB. Neither supports microSD cards.
Battery
The PlayBook is powered by a bigger battery than its rivals. Its 5300mAh battery, it is claimed, can last for up to 10 hours. The Nexus 7 will be powered by a Li-ion 4325mAh battery which the company claims will provide nine hours of HD video playback and 10 hours of browsing and e-reading.