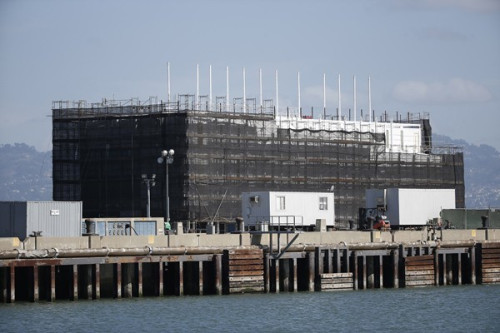 Google must move its mysterious barge from Treasure Island in San Francisco Bay because permits to moor it there are not in order, a state official has confirmed.
Numerous complaints about the construction of the four-storey barge - thought to be a glamorous entertainment space and showroom for Google Glass - forced the bay's Conservation and Development Commission to investigate, resulting in a notice requiring the vessel to be removed.
Speaking to the Associated Press, commission executive director Larry Goldzband said: "It needs to move."
Google had not returned a request for comment at the time of publication.
The investigation found that neither the Treasure Island Development Authority nor the city of San Francisco had applied for permits required for work to be done on the site. Goldzband said Google can resolve the issue by moving the barge to one of the fully permitted construction facilities in the bay area.
It was said that the Treasure Island Development Authority could face fines for allowing the project to take place.
Changes demanded by Coast Guard
The Coast Guard had previously demanded design changes be made to the barge. At the time of the request in early December, it was reported that Google's plans for the barge were "on an hiatus" and would not be completed until late spring.
Documents released under the US Freedom of Information Act in November provided some information about the barge, which is very similar to another Google-owned vessel moored off Portland, Maine.
The documents describe the San Francisco barge as 13,726 sq ft in size, with the ability to move between different locations. Once completed, the vessel is planned to feature sails resembling fish fins, but these will be decorative, as the barge is powered by diesel engines.
The papers also reveal that each barge will be staffed by 50 people, including 37 "technology demonstration associates" - sales assistants in plain English.
Google anticipates up to 1,000 visitors daily according to the documents, but the barge can also be used to host private evening events running until after 10pm.
'An interactive space to teach about new technologies'
The barge was at first thought to be a huge showroom to demonstrate Google Glass, which is expected to go on sale to the general public next year, and while the company has not denied this, it said jokingly in a recent statement:
"Google Barge...a floating data centre? A wild party boat? A barge housing the last remaining dinosaur? Sadly, none of the above. Although it's still early days and things may change, we're exploring using the barges as an interactive space where people can learn about new technology."
According to Reuters, Google has forced at least one US Coast Guard to sign a non-disclosure agreement, while another unidentified person, an inspector for a Californian government agency, admitted having to do the same.