Google has been granted a patent for a drone delivery product that contains space for keeping the package securely. Filed at the United States Patent and Trademark Office (USPTO), the patent describes a delivery receptacle that is designed to take packages from an "aerial delivery device" for deposit to a secure location.
Google has been working on its drone delivery system for about two years and trial flights took place in Australia.
In November 2015 Google's David Vos, the project leader for the drone delivery service, named Project Wing, said the service would be launched in 2017. However, Google never disclosed details about drone and the types of package it would deliver. The patent provides a glimpse of what Google has been working on over the years.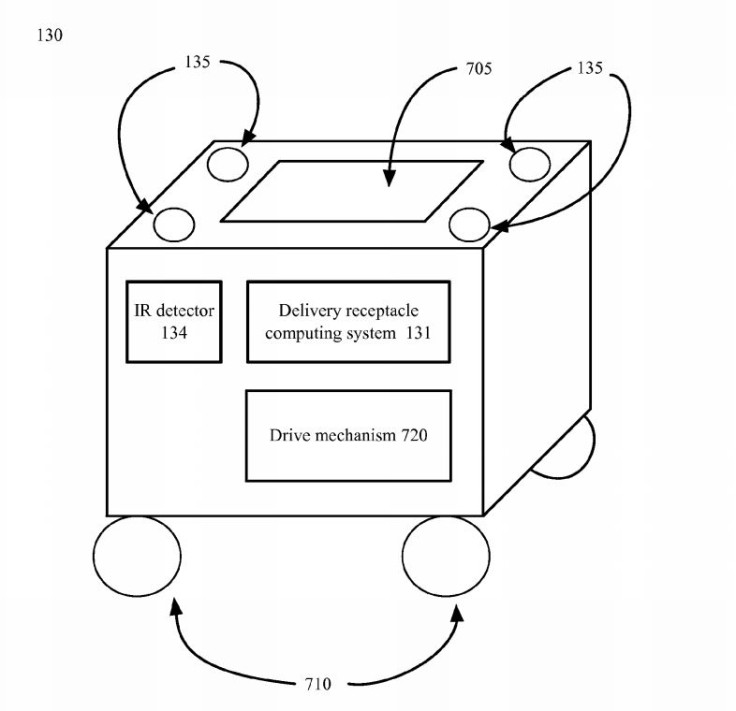 First spotted by Reuters, the patent states the delivery receptacle is notified about the pending delivery and travels to a receiving location. It uses an infrared (IR) beacon to connect with drones in the air and guides them for delivery. The aerial delivery device deposits the package in the delivery receptacle. After receiving the package, the delivery receptacle transports the package to a secure location.
Online retailers such as Amazon, Alibaba and others have already started experimenting with similar drone delivery services. But drone deliveries will not begin until the Federal Aviation Administration (FAA) frames rules for commercial drones, which are expected in 2016. At the 2016 Consumer Electronics Show (CES) in Las Vegas, Vos said the current guidelines are enough to start drone operations.
"I would advocate strongly that the need for additional regulation is very, very small. That in fact, if you allow people to do things and replicate what manned aviation pilots in this airspace do it already works. We don't need new regulation; we need to just be allowed to go do it."
According to FAA guidelines, those who own drones weighing more than 0.55 pounds (250gm) and less than 55 pounds (25kg) and are using them for hobby or recreation need to register. The FAA recently announced that about 300,000 owners have registered their drones within 30 days of the its online registration system going live.