The Syrian Electronic Army (SEA) hacked into BSkyB's Play Store account, leaving its own logo and this message: "Syrian Electronic Army Was Here". A spokesperson for the satellite broadcaster later told CNET UK Twitter feed had been compromised as well.
It is understood a number of apps were infected. These included those for Sky Go, Sky News, Sky Sports Football and Sky Sports News. However, those for Sky News Arabia, Sky News Arabia for tablets and the Sky News Weather Channel were believed to be untouched. BSkyB apps for iOS were also reported clean.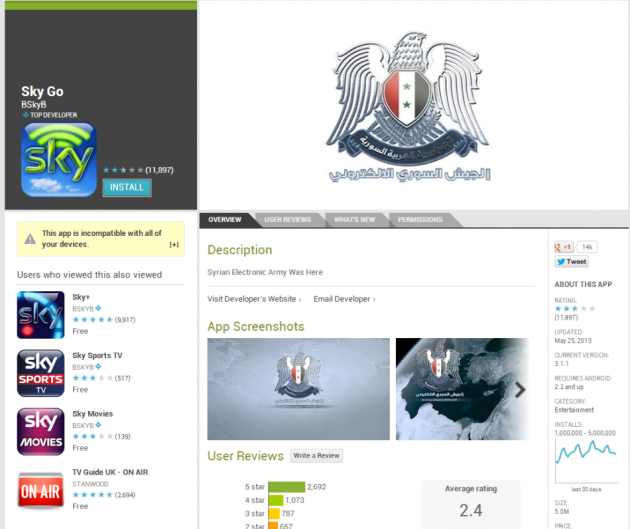 Once the hack was noticed, the Sky Help Team reportedly tweeted, asking all users to uninstall all Android-based apps. They added: "We will let you know when it [the re-uploaded apps] will be available".
However, CNET UK confirmed, via a BSkyB source, that tweet was a hacked one as well. The spokesperson said: "The Sky Help Team's Twitter account has been compromised, and the tweet that states customers should uninstall their apps is not guidance from Sky. We are currently investigating the situation. We will provide a further update when we have more information."
According to The Next Web (TNW), the hack was orchestrated to draw attention to false reports in the media linking SEA to an attack on water control systems in Israel. The story, believed to be an Associated Press report, claimed that a former cyber security advisor for the Middle East country accused SEA of trying to break into computer systems governing water infrastructure in the city of Haifa.
Android Police's report suggests the attack may have happened after SEA stole BSkyB's account log-in details and developer password.
The attack has prompted social networking Web site Twitter to take action to improve security protocols for major accounts, particularly for those connected to global media houses. The protocols include a two-factor authentication process, presently being tested internally, to improve log-in safety.