Google is reportedly preparing to open its own retail stores which could help it to reclaim Android as its own while providing a boost for the Chromebook platform.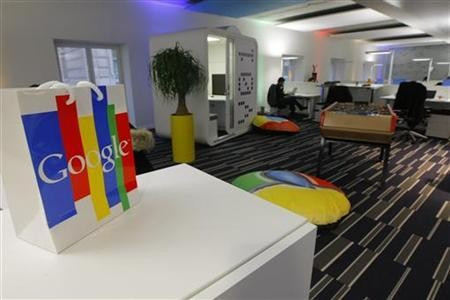 While high street stores like HMV, Blockbuster and Jessops may all have gone the way of the dodo, it is clear that physical retail stores for a company like Apple are becoming increasingly important.
At a recent earnings call with analysts, CEO Tim Cook said that the average store generates $50 million in revenue every year, adding that the iPad would not have been the success it was without customers having the opportunity to try them out for themselves in-store.
"It gives Apple an incredible competitive advantage. Others have found out it's not so easy to replicate. We're going to continue to invest like crazy," Cook said.
And so it was no surprise to see Apple's arch rival Samsung decide to launch its own retail stores on the back of the launch of the hugely successful Galaxy S3 last year. Now it seems Google is planning on doing something similar when it launches its experimental Project Glass.
Project Glass
Google's Project Glass is the company's wearable technology experiment which aims to marry the features of a smartphone and augmented reality with everything projected onto the world around you via a heads-up display.
9to5Google reports that the company felt it would be necessary to give customers hands-on time with the glasses so they could fully understand their potential before shelling out up to $1,000.
While this is a smart move by Google, the creation of purpose-built retail stores could be a much bigger deal for the company's smartphone operation and could potentially help it reclaim Android as its own, having lost it to manufacturers like Samsung, ZTE, Huawei and HTC in recent years.
Show someone a screenshot of an Android smartphone and they are more likely to associate it with Samsung or, to a much lesser extent, one of the other smartphone manufacturers using Google's mobile OS. Android is no longer Google's; it belongs to the manufacturers now.
Samsung is the company which sells far and away the most smartphones in the world, and the vast majority of these are based on Android, with a small percentage using the company's own Bada software.
Behemoth
Samsung is a behemoth. In 2012 it sold over 190 million smartphones. It commands 42.5 percent of the Android market with the next biggest manufacturer standing on just six percent.
Between them, Samsung and Apple accounted for 103 percent of all profits made by phone manufacturers in 2012. What this basically means is that Samsung is the only company making money from Android smartphones.
The problem for Google is that it has lost control of the world's biggest smartphone platform. Android is free and open, meaning manufacturers can do whatever they like with the software, tweaking it and adding features as and when they like.
This, along with a disjointed and painfully slow update system, has lead to fragmentation of the platform and it is going to be very difficult for Google to change this situation.
What the company is attempting to do is show off just how good Android can be, by launching the Nexus range of smartphones as well as the company's first Nexus tablets. These devices run 'pure' Android, unencumbered with skins or UI tweaks we see on phones from Samsung, Sony, HTC and others.
Nexus 4
The latest phone, the Nexus 4, is superb. We called it the best smartphone on the market today, and costing from £239, it is accessible to the majority of smartphone users.
The problem for Google is that the Nexus 4, like the Nexus One, Nexus S and Galaxy Nexus before it, has been lost in the morass of Android smartphones flooding the market. The Nexus 4 is fighting for attention on store shelves with hundred of other devices.
Google wants to show off just how good Android can be, but its message is getting lost in the flood of Sony Xperias, HTC Ones and of course Samsung Galaxys.
Therefore its own retail stores would give it the perfect opportunity to showcase its growing range of devices. Along with the Nexus smartphones, Google launched two new Android tablets in 2012 as well as the second generation of laptops running its Chrome operating system.
The fact that these smartphones, tablets and laptops are made in conjunction with various manufacturers doesn't really matter. It is the platform that Google wants to showcase and it's own physical stores would be the ideal way of doing it.
Confusion
It will clear up a lot of confusion around Android and people will be able to see exactly what the platform can do when in its natural state. It will also give Google the opportunity to show off the possibilities of Chrome OS, the concept of which (essentially that you work entirely within a browser) is still a little alien to a lot of people.
Earlier this month a leaked video of a Google-designed Chromebook - called the Chromebook Pixel - was leaked. We argued that Google needs to go down the route of creating these types of flagship devices for its various platforms in order to get people's attention.
If this and other rumoured products do come to fruition then having a physical retail space in which to show them off to their full potential is essential.
And just think, if Google's offices are as fun and interesting as the picture at the top of this article depicts, then just imagine how fun and friendly its stores are going to be.