As Google announces it is going to integrate Gmail into personal search results, expand Konwledge Graph worldwide and launch a new iOS search app, the search giant also reveals it handles 100 billion searches a month.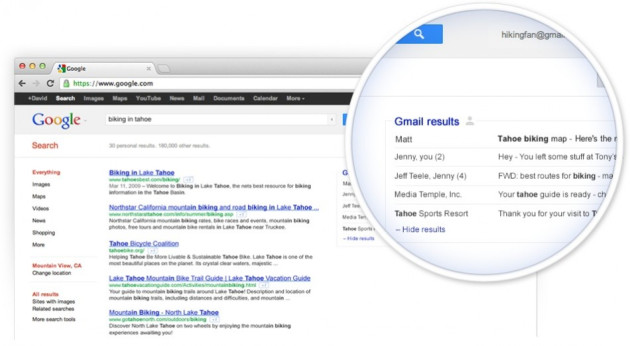 Google has announced it is carrying out a "field trial" to insert content from your emails into personal search results. In a blog post on the new feature, Amit Singhal, senior vice president of Google Search, said:
"Sometimes the best answer to your question isn't available on the public web - it may be contained somewhere else, such as in your email. We think you shouldn't have to be your own mini-search engine to find the most useful information-it should just work."
During the announcement Singhal revealed that, so far, Google has seen 30 trillion URLs online and on an average day it crawls over 20 billion of those pages, while dealing with 100 billion search queries a month.
Users with the Gmail feature enabled will be able to search for "my flights" and Google will search your Gmail for flight confirmation emails and display the results at the top of the page.
However, there are some security issues raised by this feature. CEO of CertiVox, Brian Spector points out however that this is not the first time such a feature has been developed:
"Trawling email and web simultaneously for relevant information is by no means new - Autonomy, for example, were doing it years ago with Kenjin. But is this web-email integration another example of applications linked together in a daisy-chain, potentially sharing the same weak username and password login? If so, compromising one can very easily compromise all the rest, and the results of that can be catastrophic for the user, as we saw with the recent Mat Honan story."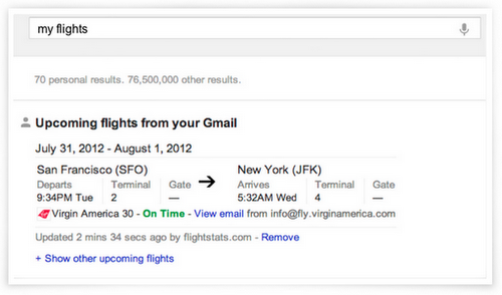 Another issue which is raised by the development of this new feature, surrounds privacy, with Spector arguing that only the user should be able to read the contents of his/her email:
"The other thing that worries me is indeed the eavesdropping aspect: not so much the fact that Google might seek to monetise user information, but that, in order to do this, they would have to be able to see and read that information in some way, whether manually or using an algorithm. That spooks me - user data should not be readable by anyone except the user."
The trial is available in English and for @gmail.com addresses but is not available on Google Apps accounts. Due to limited capacity (one million) and initial setup, if you sign-up here, you will receive an email confirmation from Google when your account is ready, but note that we may not be able to activate the experiment for everyone.
Knowledge Graph
Google also announced that its Knowledge Graph technology would be rolled out worldwide. Knowledge Graph is being used to provide popular facts about t people, places and things alongside Google's traditional results.
Users will begin to see a caroseul of images above the traditional results list. Clicking on one of these will bring up knowledge panels, as Danny Sullivan from Search Engine Land has dubbed them, on the right-hand side of the results page with pictures and basic information about the person or place you are searching for.
These panels won't always appear, only showing up when Google thinks it has relevant information to show. Google says it has compiled over 3.5 billion facts, which include information about and relationships between 500 million objects.
Some of the categories of objects Google has facts about include: Actors, Directors, Movies; Art Works & Museums; Cities & Countries; Islands, Lakes, Lighthouses; Music Albums & Music Groups; Planets & Spacecraft and Sports Teams.