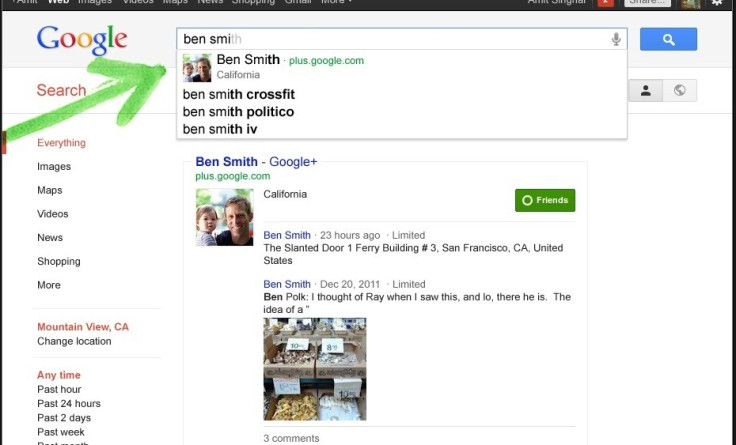 Google is integrating Google+ and Picasa, its photo-sharing site, with its search engine.
The internet search giant has unveiled three features - Personal Results, Profiles in Search and People and Pages - under a single umbrella called "Search, Plus Your World" which helps users personalise their search results.
The Personal Results app helps users access information just about them, like Google+ photos and posts including those of the users as well as those specifically shared with them. Only the users will be able to view those results on their results page.
For instance, if a user wants to search for an ideal holiday destination, the Personal Results option helps them find on their results page specific information about their friends' personal experiences holidaying at an amazing destination in the form of Google+ posts and photos which they have privately shared with the user or publicly.
The user's personal results page will also display links shared by friends, such as activities, restaurants and other things they enjoyed on their trip. Beautiful vacation photos from friends will help the users make the right choice of travel destination. Users can also view their own private photos from Google+ and Picasa, based on captions, comments and album title.
Profiles in Search helps users readily find people they are close to or might be interested in following. Typing just the first few letters of a friend's name generates a personalised profile prediction in autocomplete. Selecting a predicted profile takes the user to a results page for the friend, which will have information from their Google+ profile and relevant web results that may be related to them.
The search will also generate autocomplete predictions for various prominent people from Google+, such as high-quality authors from Google's authorship pilot program. Once a signed-in Google+ user selects a profile, they can add it to their by clicking on the Add to Circles option on top of the results page.
The People and Pages option will navigate the users to individual people profiles and Google+ pages related to a specific topic or area of interest, and enable them to follow them with just a few clicks. While searching for a topic like (music) or (baseball), users can see prominent people who frequently discuss this topic on Google+ appearing on the right-hand side of the results page. Users can connect with them on Google+, strike up meaningful conversations and discover entire communities.
The internet search giant has also set a high security bar for "Search plus Your World" and insists that the results page will have the same level of security and privacy protection as Google+ posts and private photos which are secured by SSL encryption. Once users are signed in to Google, their search results -including their private content - will be secured by the same high standards of encryption as your messages in Gmail, the search giant said.
A toggle on the upper right of the results page helps the users see what their search results look like without personal content. With a single click, they can have you can see an unpersonalized view of search results.
"Search plus Your World" will be made available over the next few days to users who are signed in and searching on https://www.google.com in English, Google said.