Google has updated its app indexing feature to start showing search results from iOS 9 apps directly within the Safari web browser. The feature was initially available on Android to offer app content results in Google Search.
In a Google+ post, the Google Developers team has revealed that the app indexing feature, which was originally released for iOS developers back in May, has now been made compatible with HTTP deep link standards for iOS 9. This simply means that app content will now appear in the Google Search results page on Safari. For instance, you just need to type "Cascal" in Google Search on Safari to get a list of all the iOS apps that have listed the restaurant. You can tap any of the results from there and the Search results page will take you to the App Store to install the listed app or to the app itself that is already installed on your device.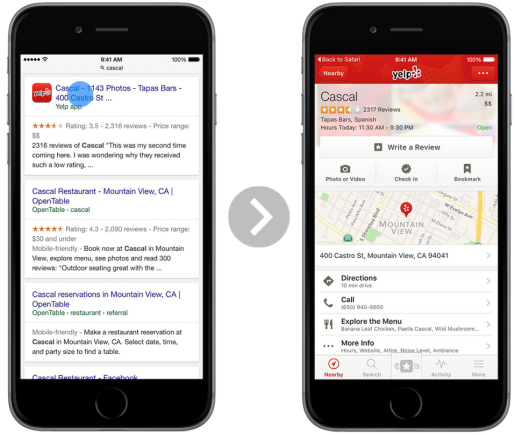 Developers can get their app content visible in Google Search by adding Universal Links to their apps and then integrating with the app indexing SDK. However, the search giant is no longer supporting any new integration on iOS 7 and iOS 8.
You'll start seeing app content within the Safari browser when using any of your iOS devices running on iOS 9 or above by the end of October. The same feature is already available on the Google Chrome app and Google app on iOS.
The Google Developer team notes that app content can be integrated into the Search results page, autocompletions and Now on Tap by adding HTTP deep links and integrating with the app indexing API. This gives app developers a way to popularise their content on Android and iOS right from the Search results page.
Google's new development to improve Search on iOS appears to be a competitive step to gain on the iPhone platform as Apple recently improved the Spotlight search function on iOS that made Google Search less functional. Unlike Google Search, which requires a web browser or Google app, the improved Spotlight search is available as a native feature on iOS 9 and even works with Siri digital personal assistant.