Labour party leader Ed Miliband has said there is a "culture of irresponsibility" among some of the UK's biggest companies when it comes to tax avoidance.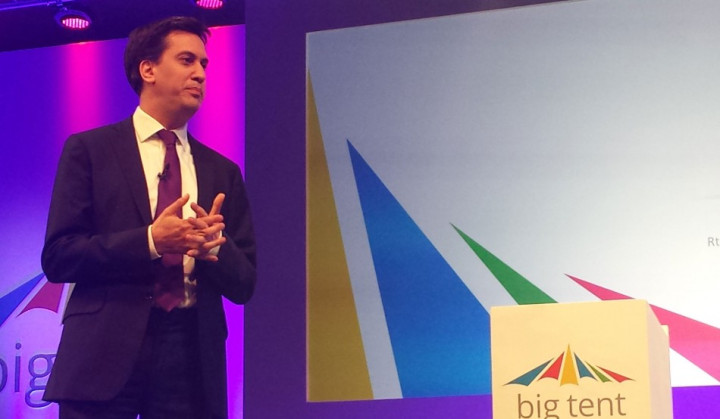 Miliband was speaking at Google's own Big Tent conference outside London on Wednesday where he addressed the current difficulties surrounding Google's tax affairs, where it has been accused of aggressively avoiding paying the right amount of corporation tax in the UK.
"There is a culture of irresponsibility among some of the biggest firms in the country and that's got to change. We can't lecture people on benefits, about doing the right thing and showing responsibility if at the same time some of the biggest companies are sending out the wrong signals to our country," Miliband said.
Miliband spoke out against Google's practices following the company's re-appearance in front of the Public Account Committee (PAC) last week, when vice-president Matt Brittin tried to defend the company's policies by saying "99% of customers have no UK contact."
Google has come in for criticism for only paying £6m in corporation tax in 2011, despite recording annual revenues of £2.5bn in Britain that year.
Fraction
Addressing his issues with Google specifically, Miliband said: "I can't be the only person here who feels disappointed that such a great company as Google,with such great founding principles, will be reduced to arguing that when it employs thousands of people in Britain, makes billions of pounds of revenue in Britain, it's fair that it should pay just a fraction of 1% of that in tax."
On Sunday Schmidt defended his company's position in a column for the Observer, saying: "Corporation tax should be paid on a company's profits, not its revenues. When a company only operates in one country, it's obvious where its profits are generated and thus where its taxes should be paid. But for multinational companies with a global presence, it's much more complicated."
However, Miliband disagrees:
"When Google does great things for the world, I applaud you. But when Eric Schmidt says, its current approach to tax is just 'capitalism', I disagree. It's a shame Eric Schmidt is not here to hear me say this directly. And when Google goes to extraordinary lengths to avoid paying its taxes, I say it's wrong."
Schmidt is also scheduled to speak at Google's Big Tent on Wednesday but was not present to her Miliband's comments on Wednesday morning.
Responsible capitalism
Miliband said the UK needs to create "responsible capitalism" where "power is spread to the many, not concentrated in the hands of the few."
A lot of internet companies are attracted to countries such as Ireland which have low rates of corporation tax and more regulations. Apple is one such company funnelling the vast majority of its revenues through three subsidiaries in Ireland, a practice which has led to its CEO Tim Cook being questioned by a Senate subcommittee in Washington this week.
When asked if imposing stricter regulations on companies looking to establish themselves in the UK was therefore harmful, Miliband said he believed it wouldn't impact on that potential business: "My strong view about this is that some basic requirements around transparency for example, I just don't believe the idea companies are not going to locate or be headquartered in Britain because of some basic requirement about transparency."
Lessons learned
The Labour leader also drew comparisons with the financial crisis of the last few years, saying there are lessons to be learned. "What were the banks saying in the 2000s? They were saying don't regulate us, don't do the right thing in relation to us, otherwise we'll leave the country. Too often governments didn't respond, didn't do the right thing. I'm not saying [something like the financial crisis] will happen in the internet world, but I do think there are lessons to be learned."
Miliband also attacked David Cameron's position, saying he need to be more transparent:
"I'm saying to him, put your proposals on the table on tax avoidance, don't just talk about it...he's not putting concrete proposals forward on transparency, on transfer pricing, on tax havens, on tax avoidance rules, on extractive industries, on all of those things."
Miliband said the government needs to be able to say that it will act at home if it cannot get agreement internationally. He also said the Prime Minister should have addressed Google's tax issues with the company's executive chairman Eric Schmidt when he met him on Monday. "What do people want in politics today? They want people who will stand up and say this is the right thing, whoever is in the room, even if it is Eric Schmidt who is a very powerful guy."
Both Google and the UK government are seeking international tax and Miliband urged David Cameron to put forward proposals now to make it happen at the G8 which takes place in Northern Ireland on 17 and 18 June.
Don't be evil
Google's mantra of "Don't be evil" was used by Miliband to call on the company to do the right thing in relation to tax. He displayed a section of Google's 2004 IPO prospectus which read:
"Don't be evil. We will be stronger in the long term, we will be better served - as shareholders and in all other ways - by a company that does good things for the world, even if we forego some short-term gains. This is an important aspect of our culture and is broadly shared in the company."