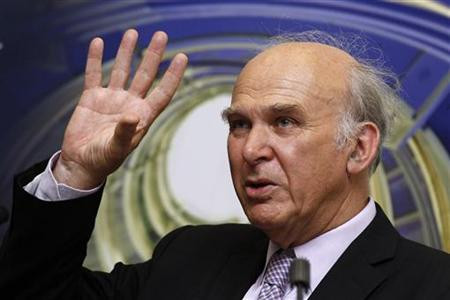 Government minister Vince Cable has announced a new intiative to increase lending to hard pressed businesses after the Business Secretary warned they could face loan agreements if they do not act now. The penalties include restrictions on executive remuneration if they do not agree.
Speaking of the financial institutions which have dominated the press Cable said: "They have not been acting in the national interest. It is a very serious problem and potentially a growing problem." he added.
Regional stock exchanges, government loan guarantees and quantitative easing are all moves that Cable is considering although the latter remains independent.
"I don't think the banks get it," he said, adding his idea for a 'carrot' and 'stick' approach to getting the banks lending where banks get freedom to set remuneration if they widen loan agreements, "What we would question is whether banks should be paying out dividends and bonuses when that money could be used to...support small business lending." he added.
"At the moment we are talking to them in an amicable way and we are monitoring them, but if this doesn't work there are combinations of carrots and sticks that can be employed."
Vicky Redwood, Capital Economics commented that problems remained over how to implement this, including how policy would interact with current regulation as Governor of the Bank of England, Mervyn King would lead it.
"Accordingly, the Government does not seem to be on the verge of taking particularly radical action to kick-start lending. We still doubt that lending will pick up strongly or quickly enough to drive a strong and sustained economic recovery." she said.