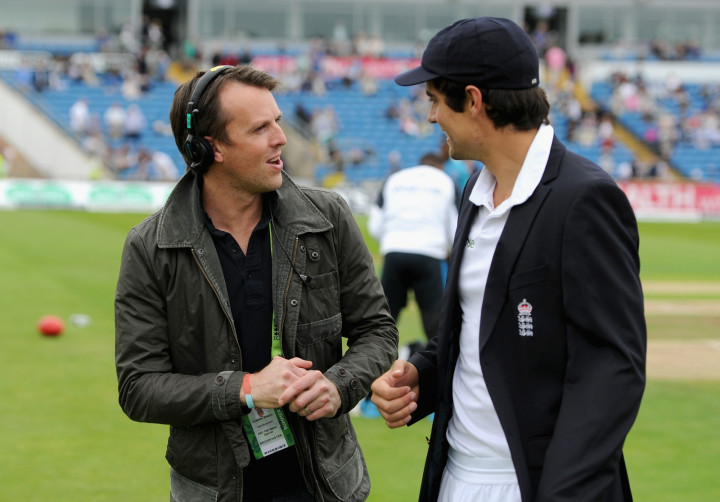 Former England spinner Graeme Swann will seek truce talks with captain Alastair Cook despite continuing his attack of the Test and one-day skipper.
Swann called for Cook to resign from the ODI captaincy ahead of next year's World Cup before the 133-run defeat to India in Cardiff on Wednesday.
Cook admitted the criticism from a "so-called friend" had been a distraction ahead of the second one-day international, and though Swann stands by his criticism of the skipper he will seek amicable talks with the England opener.
"Real mates are honest with each other," Swann told The Sun. "Being the one-day captain is a poisoned chalice for him. He just doesn't need the job.
"It's never nice when you feel your nose has been put out of joint. I'm sure I'll speak to Cooky over the next couple of days but I won't back down from what I said.
"This is not a witch-hunt against Cooky and I'm still a huge supporter of his captaincy in Test cricket.
"In one-day matches I want England to play the exciting cricket they promised six months ago when Peter Moores took over as head coach. [Yet] we're happy to tootle along in a two-litre diesel in a Formula 1 race.
"In one-day cricket you should pick your 11 best players and choose your captain from there and I don't think he is one of the best 11 players."
England face 14 full 50-over internationals and a handful of warm-up games before next year's World Cup, yet questions still remain over the make-up of their squad heading to Australia with questions continuing over Cook's role as captain and opener.
Three successive Test wins over India saw Cook win a vote of confidence in the longer format but his future in the one-day game is less certain.
"His [Swann's] remarks were not that helpful – especially from a so-called friend – but he's entitled to his opinion," said Cook following the heavy loss to India.
"But it's not ideal for me, especially after getting through the summer I've had. I have not spoken to him about it. The phone is always open the other way. It's a little bit disappointing.
"He's a good friend and has been a supporter and it's not helpful at this time because I am going to go and captain in this World Cup.
"We're going to build up to that and we've got a good chance although obviously if we play like [England did in the second test] we aren't going to win many games of cricket."