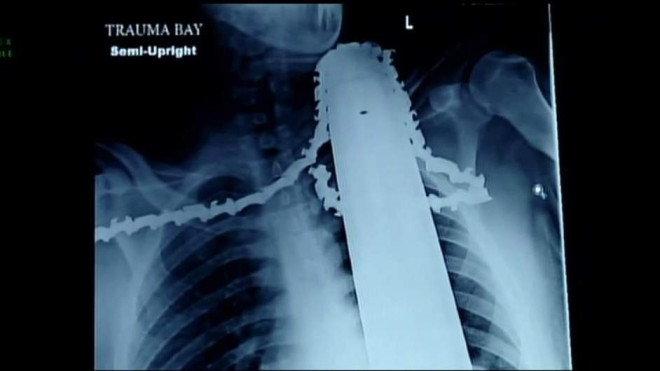 A young Pittsburgh man has who was up a ladder pruning trees came within centimetres of death after the chainsaw he was using became jammed in his neck.
This is the x-ray which shows just how close 21-year-old James Valentine was to being killed when the chainsaw jerked back and buried itself in his body.
He was rushed to hospital with the blade still in his neck in order to stop catastrophic blood loss and underwent emergency surgery.
That sharp teeth of the chain were only centimetres from Valentine's carotid artery.
Valentine stayed calm throughout the ordeal however, and was still able to speak. Most of the damage was to his shoulder muscle, reported Sky News.
"He was appropriately upset, but his death was not imminent," said Dr Toevs of Allegheny General Hospital.
"He didn't lose control, he wasn't crying uncontrollably, and he was holding still as best he could."
He didn't say very much except to say his name was James," Dr Toevs said.
"We certainly don't ask him, 'How do you feel about having a chainsaw stuck in your neck?'"