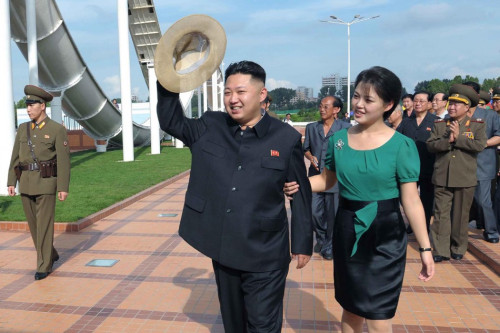 Grave of grandfather of North Korea's leader Kim Jong-un have been discovered on the volcanic Jeju Island in South Korea.
The grave has been identified as that of Kim's maternal grandfather, Ko Kyong-taek, Korean national daily Chosun Ilbo reported.
As per Kim's maternal family records, his grandfather was born on the Jeju Island in 1913. In 1929, he moved to Osaka in Japan to work in a munitions factory,n long before a communist revolt struck the island on 3 April 1948, forcing many people to flee the bloodshed on the island and head to Japan.
It was in Osaka when Kim's maternal grandfather fathered three children, including Kim's mother, Ko Yong-hui.
Records show that Ko Kyong-taek was arrested for human trafficking in 1962. He then chose North Korea over the South after being deported.
His daughter Ko Yong-hui, a dancer, was one of the mistresses of Kim's father and the former North Korean leader Kim Jong-il. However, she served as First Lady till her death from breast cancer in Paris in 2004.
Kim's South Korean lineage
The location of the grave of Kim's grandfather indicates that his ancestry can be traced back to South Korea with which North Korea shares a longstanding hostile relationship.
The other factor that suggests that Kim's lineage is rooted in South Korea is the name of his paternal grandfather and North Korea's founder, Kim Il-sung, who borrowed his name from the name of a mountain (Sung mountain) in middle of Jeju Island.
"Kim Jong-un draws his legitimacy from his direct descent from nation founder Kim Il-sung, what is reverently called the "Baekdu bloodline" after Kim Il-sung's alleged birthplace. But there is also a respected "Halla bloodline" of revolutionaries, borrowing the name of the mountain in middle of Jeju, into which his ancestry could by some stretch be shoehorned," the newspaper report said.