An alleged illegal conspiracy involving Apple, Google and Intel was in place for years to eliminate competition for each other's employees.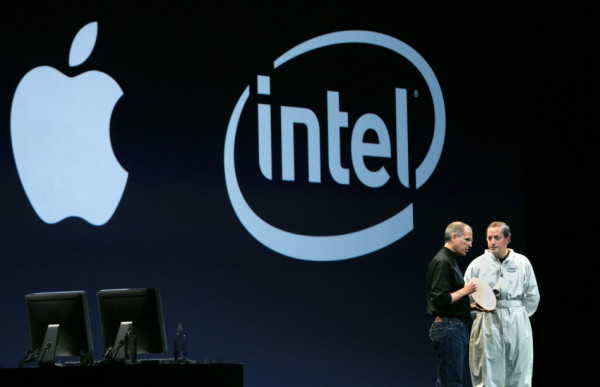 Some of the world's most powerful companies have been charged with putting in place a secret "gentleman's agreement" not to poach each other's employees. The pact has been uncovered following a civil lawsuit brought by five technology workers against Apple, Google, Intel and others, alleging an illegal conspiracy to eliminate competition for each other's employees and drive down wages.
Despite attempts by the companies involved to keep a range of documents relating to the case secret, US District Court Judge Lucy Koh sitting in San Jose, California rejected the request and made the documents public.
The documents reveal intimate details of some of the most high-profile people in the world of technology, including Apple's Steve Jobs, Google's Eric Schmidt and Intel's CEO Paul Otellini.
In one of the filings, Ed Colligan, former CEO of Palm outlined how he received a phone call from Steve Jobs, then Apple CEO regarding a problem Jobs perceived with Apple employees being poached by the software company.
During the phone call in August 2007, Colligan says Jobs "proposed an arrangement between Palm and Apple by which neither company would hire the other's employees.
"Mr Jobs also suggested that if Palm did not agree to such an arrangement, Palm could face lawsuits alleging infringement of Apple's many patents."
One of the documents released by Judge Koh is a email sent by Colligan to Jobs after the initial phone call, saying he didn't agree to the proposal, and it was "not only wrong, it is likely illegal."
Actively recruited
Jobs replied with an email of his own, saying: "It is not just a matter of our employees deciding they want to join Palm. They are being actively recruited using knowledge supplied by Jon Rubenstein and Fred Anderson, with Jonpersonally participating in the recruiting process."
Rubenstein had previously worked at Apple until April 2006, and was instrumental in the development of the iPod, before being recruited by Palm in 2007.
Jobs also reiterated his threat of a lawsuit saying: "My advice is to take a look at our patent portfolio before you make a final decision here."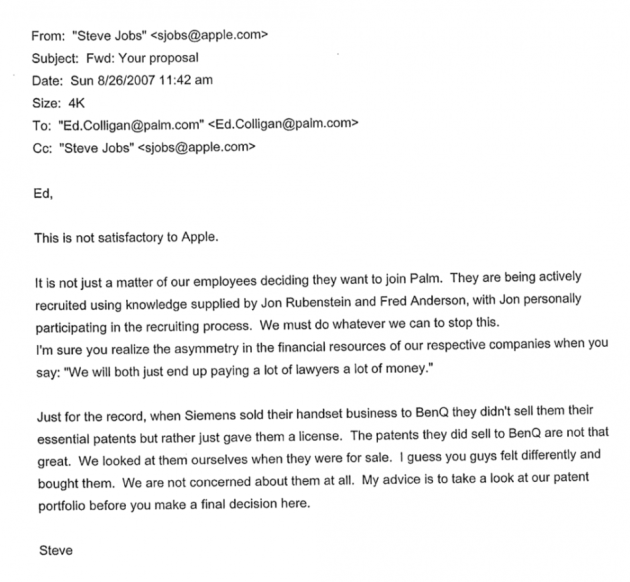 However, the Apple-Palm proposed agreement was only one of multiple agreements in place across Silicon valley.
Prior to the exchange between Jobs and Colligan in 2007, Jobs contacted then Google CEO Eric Schmidt in February 2006, saying: "Eric, I am told that Google's new cell phone software group is relentlessly recruiting in our iPod group. If this is indeed the true, can you put a stop to it? Thanks, Steve."
Schmidt was much more accommodating in his response than Colligan would be the following year, stating: "I'm sorry to hear this; we have a policy of no recruiting of Apple employees. I will investigate immediately! Eric."
Do not cold call
However, another document released by the court shows that Google had a policy in place since 2005 in relation to Apple, Intel, PayPal and others. According to the internal memo: "The following companies have special arrangements with Google and are part of the "Do Not Cold Call" list."
As well as a list of five companies added to the original list in 2005, others were added throughout 2006, including eBay and Intuit. And Google was implementing this practice forcefully, as another document revealed.
An email conversation between Schmidt and Google's former senior staffing strategist Amnon Geshuri shows that an employee within the HR department of Google who "cold called" an Apple employee was going to be fired.
Another Google employee, Shona Brown replied to Geshuri to say: "Please make a public example of this termination with the group. I want it clear that we have a zero-tolerance policy for violating our policies."

Hinting at the potentially illegal nature of this activity, Schmidt wrote to Brown to say: "I would prefer that Omid [Kordestani] do it verbally, since since I don't want to create a paper trail over which we can be sued later?"
Secret pact
Another 2007 email conversation shows that Intel was also involved in the secret pact, with CEO Paul Otellini contacting Schmidt directly following an email from his software head Renee James, who said Google was selectively going after Intel's employees in Moscow, China and Santa Clara.
An email from Otellini to Intel staff echoes Schmidt's believe that there should be no paper trail: "Let me clarify. We have nothing signed. We have a handshake "no recruit" between Eric [Schmidt] and myself. I would not like this broadly known. Paul."
Another document shows that Intel were implementing a similar Do Not Cold Call policy to Google, stating that it should never cold call any Pixar employee, and even if a Pixar employee applies for a job at Intel, then Intel would contact the Pixar CEO for approval before hiring.
The email trail comes full circle back to Steve Jobs in a conversation between him and Rob Cook from Pixar, where Cook is asking for Jobs' permission to employ an Apple employee who has applied for a job at the animation studio.
Judge Koh is currently mulling over whether the civil lawsuit can proceed as a class action, which would give the plaintiffs more leverage to extract a large settlement. Plaintiff attorneys have estimated that damages potentially could run into hundreds of millions of dollars.
Google spokeswoman Niki Fenwick told Reutersogle and Intel on Tuesday, that Google has "always actively and aggressively recruited top talent." Schmidt is due to be questioned in court next month.