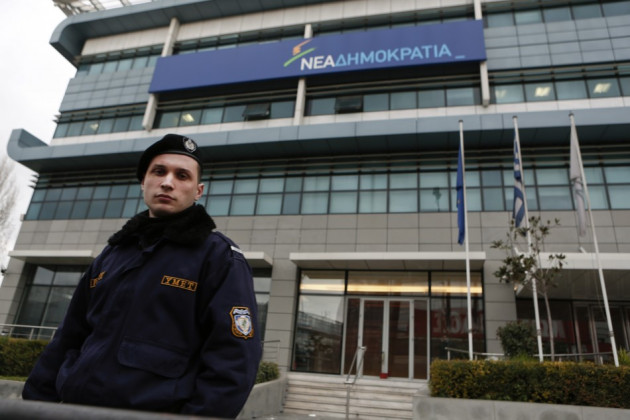 A gunman opened fire with a Kalashnikov rifle on the headquarters of Greece's ruling centre-right New Democracy party in Athens, as a spree of politically motivated violence has spread across the crisis-hit country.
There were no injuries and very little damage.
One shot smashed the window of an office occasionally used by Greek prime minister Antonis Samaras, although his main offices are in another building in central Athens.
"At around 3am security guards saw two men come out of a black car and open fire with a Kalashnikov on the building," a police official said.
"Nine rounds of ammunition were found on the ground."
Police cordoned off the area and were examining a stolen car that was found burnt out a few miles away from the building. No group has claimed responsibility for the attack.
Government spokesman Simos Kedikoglou said it was a "symbolic" attack against the PM and blamed left-wing party Syriza for its alleged "unclear" stance on the recent escalation of political violence.
"There is a new worrying increase in efforts to terrorise our society," said Kedikoglou.
"There has to be a clear denouncement of violence and verbal violence [by Syriza]" Kedikoglou said. "The difference between inflammatory statements and inflammatory attacks is very small.
Syriza spokesman Panos Skourletis said the party's condemnation of the attacks was a "given" and accused New Democracy of creating a "civil war climate" polarising the political talks to draw attention away from the financial situation.
The house of Kedikoglou's brother was targeted by a firebomb over the weekend although there were no injuries.
A total of 17 incendiary attacks have taken place over the last few days across the country.
Firebombs targeting five journalists exploded on Friday with the attack claimed by an anarchist group called Militant Minority. Again, no one was injured.
Bomb attacks hit also other offices belonging to Greece's major political formations (New Democracy, Syriza and Pasok) across the country.
Police said the violence was perpetrated by far-left militants angry over 100 arrests #that were made when an anarchist squat in Athens was cleared recently.