Greece Erupts in Widespread Riots as Austerity Deal Passed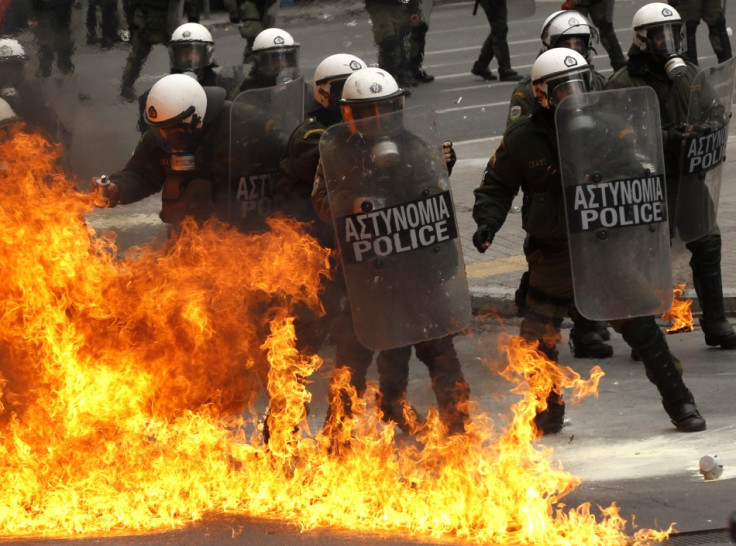 The Greek parliament has accepted a stringent financial austerity package, slashing pay, pension and jobs in the public sector and sparking widespread rioting across the country.
Two-thirds of the 300-strong lawmakers voted to accept the package but 43 deputies from the two main parties voted against and were immediately expelled from their parties.
News of the vote sparked violence on the streets. The Guardian said that as many as 40 buildings were torched and several people injured and there were also street fights between protesters and riot police.
The passing of the austerity package means Greece will get a second bailout package in less than two years. The package will be worth US$170bn (£107bn) and there will also be a $130bn write-off of debt.
The loss of the bail package would have meant Greece would have defaulted on next month's loan repayment of $19bn.
Markets reacted positively to the latest vote with most global bourses opening higher on Monday.
The Greek crisis began in May 2010, when former prime minister George Papandreou indicated he had reached an agreement with the European Union and the International Monetary Fund for a bailout package in return for budget cuts of $43bn over three years. The package was the first time a eurozone member country had to be so helped and began the call for austerity measures. Strikes were called by angry workers.
Greece continued to announce more austerity measures - it raised the retirement age of women to 65, to match that for men and announced a series of privatisations looking to raise $70bn by 2015.
Despite the measures, draft government figures in October suggested the country would miss deficit target. A Reuters report indicated the 2012 draft budget predicted a deficit growth of 8.5 percent of GDP for 2011.
On December 13 , the finance ministry said the country's public deficit widened by 5.1 percent in the first 11 months of 2011. A day later, the IMF said reforms in the country were being hampered by too many delays in implementing required measures.
© Copyright IBTimes 2023. All rights reserved.