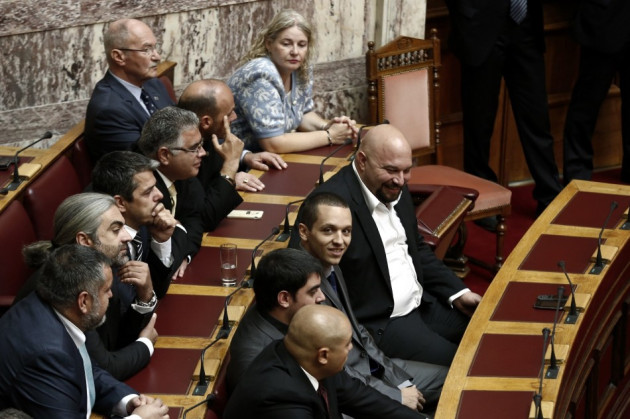 Greece's divided parliament has finally found some common ground, in a vote to remove state funding to the neo-Nazi Golden Dawn party.
An amendment to cut off Golden Dawn's state funding was approved by an unlikely coalition of left and right parties comprising New Democracy, PASOK, Democratic Left and SYRIZA with a majority of 235 votes out of 300. It was one of the few occasions in this parliament that the leftist SYRIZA party has voted with the government.
Independent Greeks and Communist Party MPs voted "present", which implies neither yes nor no, while Golden Dawn representatives called the move "unconstitutional" and abstained from voting.
Golden Dawn was due to receive €900,000 of taxpayers' money, a sum which is allocated to all parliamentary parties. However the new amendment says state aid is suspended "to a party where the leader [...] or a tenth of the elected members are under investigation for constituting or participating in a criminal organisation".
The vote came after six Golden Dawn MPs faced charges of running a criminal organisation in a case triggered by the murder of anti-fascist rapper Pavlos Fyssas, nicknamed Killah P.
Greece's third most popular party, with 18 seats in the parliament, is facing a crackdown from the government following the killing of Killah P, who was stabbed to death outside a café in the Keratsini area west of Athens.
Police arrested a 45-year-old supporter of Golden Dawn, George Roupakias, over the killing and raided party headquarters in the Greek capital and other cities.
The party leader, Nikos Michaloliakos, is currently awaiting trial on charges of running a criminal organisation.
The Greek parliament has already lifted immunity from prosecution on six neo-Nazi Golden Dawn MPs involved in the same criminal case as Michaloliakos.