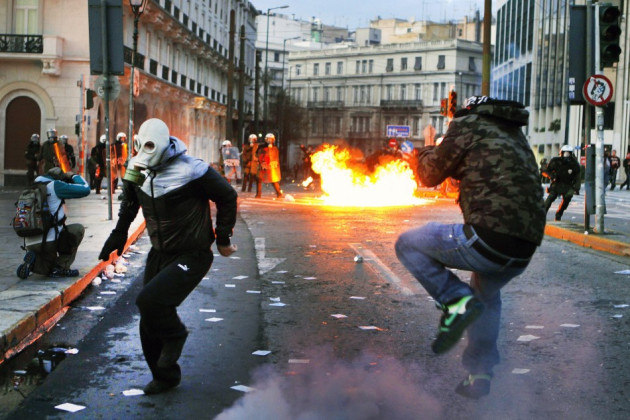 Greece as the first country to leave the euro is the hot favourite with bookies - so much so that both William Hill, Britain's biggest bookmaker, and rival Ladbrokes have suspended betting.
They fear that in-the-know punters in the financial sector are backing a Greek exit before bookies can themselves get a solid understanding of what is happening in the eurozone.
"The situation appears to be quite volatile over there and we don't have anyone on the ground," Graham Sharpe, media relations director at William Hill, told International Business Times UK.
"When you have got a market of this nature where you know that these rumours and stories in the financial sector tend to travel quite quickly and to quite a sophisticated audience who are more capable of getting a bet on before we realise what has happened, we thought discretion was the better part of valour for us in that respect and that we should stand back a bit."
A Greek exit from the euro was 1/4 before it was suspended by William Hill.
Greece elections throw country further into turmoil
Recent elections have thrown the country's politics further into turmoil with a hung parliament and no sign of enough agreement between opposing parties to form a coalition government.
Leftists oppose the terms of bailouts from the EU and International Monetary Fund (IMF) for the stricken country, which prevented a default on its vast debts and the domino effect that would have on the global economy.
Deep austerity measures must be undertaken by the government for Greece to receive its bailout funds, which has led to public spending slashed dramatically, spiralling unemployment and a dire financial situation for many households.
Parties on the left are refusing to form a government with pro-bailout parties unless concessions are made on austerity, throwing Greece's economic future into uncertainty.
Greek euro exit 'hot favourite for some time'
"Greece has a been pretty hot favourite [to leave the euro first] for quite some time," Sharpe said.
"In a way we were unable to make a book, as such. The whole art of bookmaking is not to take money for just one contender in a race, but to spread it around so that you've got enough if the favourite does win from people who've back other runners to pay them.
"We were finding that people were only wanting to back Greece so effectively it was turning into a one-horse race which is very difficult for bookmakers to profit from and is not a very desirable situation for us."
Ladbrokes had a Greek exit at 1/3 before it pulled the plug.
"The book remains closed while discussions continue. We'd slashed the odds repeatedly until then as punters continue to bank on a Greek exit," Alex Donohue, Ladbrokes spokesman, said.
Will the euro still exist in 2016?
William Hill also suspended betting on the question of if the euro will exist on 1 January 2016, with 4/6 on yes and 11/10 on no.
"If one country goes there's the risk of a bandwagon or merry-go-round effect and you start to lose more so we have suspended that market as well for the time being," Sharpe said, adding it is "almost a toss of a coin" on if the euro will exist in 2016.
Ladbrokes is still taking other eurozone bets, with the euro to cease to exist by the end of the year at 33/1; the euro to cease to exist by the end of 2015 at 5/6; two or more states to leave the euro by the end of the year at 4/1; and the Greek stock market to lose more than 25 percent of its value in a single day's trading by the end of 2012 at 1/2.