Greece turns to Russia as Prime Minister Alexis Tsipras rejects 'absurd' creditors' demands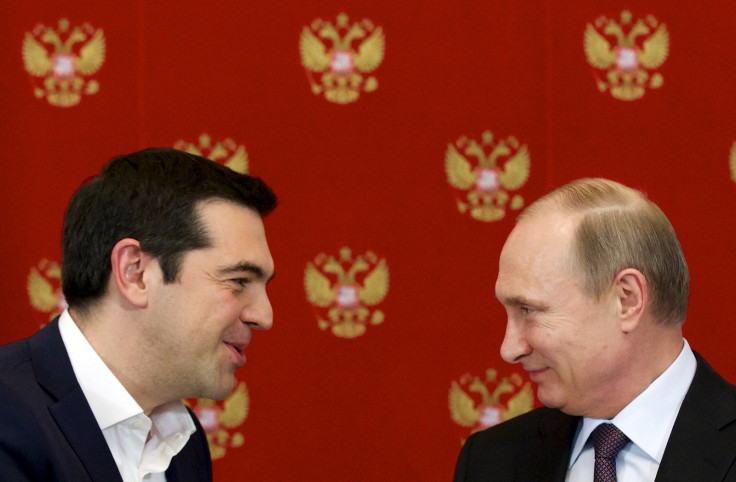 Greek Prime Minister Alexis Tsipras will meet Vladimir Putin on 18 June, fuelling fears that Athens might seek a deal with Moscow that would circumvent EU sanctions on Russia.
Athens is looking to receive €5bn (£3.65bn, $5.55bn) in advance payments from Russia by agreeing to become a central hub for a Russia-Europe gas pipeline.
The announcement of the meeting came as Tsipras told the Greek parliament that the EU was forcing "absurd" austerity measures on the cash-strapped country.
He accused the country's creditors of doing all they could to scupper a cash-for –reforms deal that would give Greece a new injection of loans. He said the EU was pushing Athens towards default and the euro exit door, or Grexit.
"The creditors' proposals are unrealistic and a step back in negotiations," he told parliament. "The Greek government cannot agree to irrational proposals. Greek people should be proud because the government is not going to give into absurd proposals."
Yanis Varoufakis, the Greek finance minister, told BBC Two's Newsnight that the eurozone and International Monetary Fund plan was "atrocious. The deal proposed by the creditors is the kind l you propose if you don't want a deal."
The cost of Greek borrowing spiked after the government decided to delay and combine three payments to the IMF totalling €1.6bn until the end of the month.
According to The Times, Tsipras is under growing pressure from his Syriza party's powerful far-left to call an election over the creditors' demand for pension cuts and increases in VAT.
Panagiotis Kourouplis, the health minister, said: "The government will not go back on the promises we made to the Greek people. Let the Europeans assume the responsibility."
Dimitris Stratoulis, the social security minister, called for fresh elections if the eurozone and IMF did not drop the demands, a vote that would become a referendum on the euro and Syriza's opposition to austerity.
"The lenders want to impose hard measures. If they do not back down from this package of blackmail the government will have to seek alternative solutions, elections," he said.
Meanwhile, Amos Hochstein, the US State Department's special envoy for energy, urged Greece to pull out of the pipeline deal because it would increase Europe's reliance on Russian gas.
Panagiotis Lafazanis, the Greek energy minister and the leader of Syriza's far-left faction, condemned it as "intolerable interference", opening a new front in Greece's confrontation with the West. "Greece will not be blackmailed and does not consider its energy choices as part of any problem," he said.
© Copyright IBTimes 2023. All rights reserved.