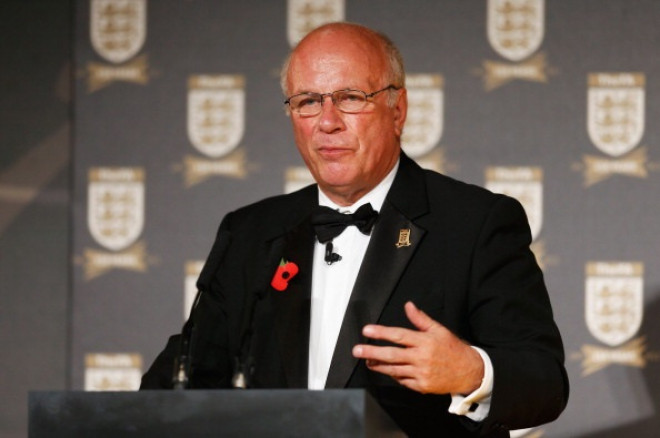 FA chairman Greg Dyke has outlined the creation of a new 'League 3' where Premier League B-teams would compete in a bid to produce better English footballers.
Dyke said he wanted there to be 90 English players playing regularly in the Premier League by 2022, an increase on the 66 currently plying their trade in England's elite league, and that a new league would help achieve that goal.
B-teams would be barred from entering domestic cup competitions like the League Cup and FA Cup and, although they could rise and fall through the league like a regular club, they would effectively be 'capped' if they were promoted to League One.
In his first press conference as chairman in September 2013, Dyke set England the target of winning the World Cup in 2022 and set an FA Commission the task of coming up with ideas on how to improve England's fortunes after going almost 50 years without winning a major tournament.
The commission looked to Spain for influence on how to better develop English hopefuls, pointing to the success Bayern Munich manager Pep Guardiola enjoyed at Barcelona's B-team before transforming Barcelona into the pre-eminent force in world football.
Unveiling the commission's proposals, the former director general of the BBC said Manchester United, Manchester City, Liverpool, Stoke and Tottenham back the B-team plans, and it is understood other Premier League clubs also support the idea.
Dyke said: "We set out to answer one simple question - how can we get more English players playing at the highest level. Our intention is not in any way to undermine the traditions of our football pyramid, I believe we will enhance them by having young players at the top.
"We have a duty of care to English football and not just to football played in England. A B-team would be the youth development squad of a Premier League club, fully integrated, they would share its name and be part of that club. Across most of Europe B-teams provide an effective bridge between the academy and the first team."
He criticised the impact of transfer market reform, saying clubs were still importing young talent as opposed to developing it on these shores.
Under the plans no club outside of the Premier League would be allowed to have more than two non-European Union players, and the commission also suggested a new 'strategic loan partnership' system whereby clubs could loan up to eight players to a single Football League side in return for greater control over them.
The commission comprised former and current footballers including Manchester United defender Rio Ferdinand, Danny Mills and Glenn Hoddle.
Mills said a continental approach to nurturing young footballers would benefit the English game.
"The majority of Germans, the Spanish, like Xavi, Busquets, even Guardiola, came through the B-team system, the model is there for it to work," he said.
"The biggest problem is going to be change and the change of tradition but if we want to move forward we have to change."