Grigor Dimitrov reveals how Rafael Nadal turned his season around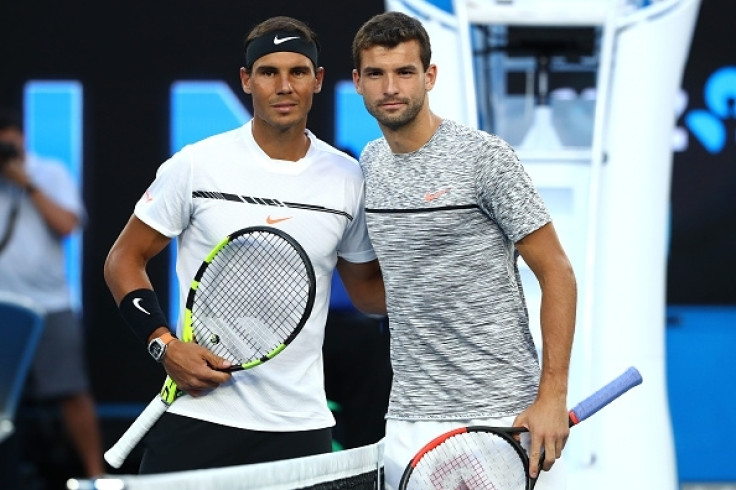 KEY POINTS
In July, Dimitrov decided to train with the world number one in Mallorca.
The Bulgarian could become a career-high world number three if he wins the ATP Finals.
World number six Grigor Dimitrov has credited Rafael Nadal for helping turn his season around.
The Bulgarian, who is currently in the last four of the ATP Finals, has had a meteoric rise, climbing from 40 to the top ten of the tennis rankings in a matter of 18 months.
He started 2017 off with a win in Brisbane before reaching the Australian Open semi-final where he took Nadal all the way despite eventually losing a five-set thriller.
Dimitrov then added more silverware in his hometown of Sofia by defeating David Goffin in the final in February.
However, since then, the 26-year-old's performances started to stall with just one semi-final appearance — at the Aegon Championships — in his next 11 events, which included the French Open and Wimbledon.
A change was needed and in July, "Baby Fed" proceeded to train with Nadal in Mallorca, later praising the Spaniard for his intensity and work-ethic.
"Who wouldn't want to practice with the No. 1 player in the world?" Dimitrov told ESPN. "For sure you can learn from it. It rubs off on you."
The training with Nadal paid dividends as Dimitrov went on to win his first Masters 1000 title in August, defeating Nick Kyrgios in the final of the Cincinnati Open.
He would then lose to Nadal in the semi-final and quarter-final of the China Open and Beijing Masters respectively, but is on course to end the year in the top three of the ATP tennis rankings should he win two more times in London.
Detailing how his practice sessions went with Nadal: "We practiced usually in the morning from 9 o'clock to around 12 maybe. Pretty intense practice -- Rafa is an intense guy," Dimitrov explained before adding how the world number one usually takes a break.
"He'd say, 'Hey man, let's go on a boat,' so you just go on, jump in the water, just like two kids on a regular day. I think we have a good understanding of one another, and it was a great time."
With the season coming to an end after the ATP Finals, Dimitrov plans on continuing training with the world number one during the off-season.
"His etiquette is magnificent. Winning, losing, he has the same body language," he added.