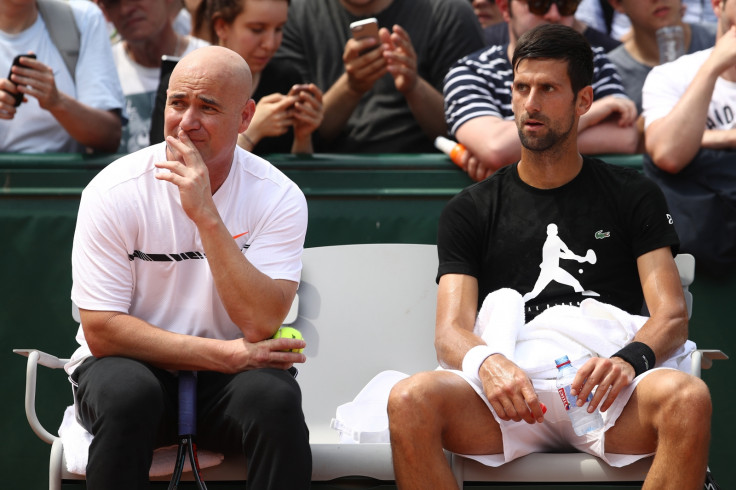 Andre Agassi will help Novak Djokovic lay the foundations for his eventual retirement, the 12-time grand slam champion's new coach has revealed. The world number two has enlisted the American for the defence of his French Open title after splitting with his entire coaching team in May.
The 30-year-old has endured a torrid 12 months since completing the career grand slam at Roland Garros, suffering early exits at Wimbledon and the singles competition at Rio 2016 before losing the US Open final to Stanislas Wawrinka.
The run of bad form eventually saw him replaced as world number one by Andy Murray, while his struggles have continued into 2017.
Having split with Boris Becker prior to the new season, Djokovic separated with his entire coaching team last month, including Marian Vajda with whom he had worked since he was 19 years old, in an effort to rediscover his imperious best.
With Agassi now in his corner Djokovic has reached the fourth round at the French Open, but needed five sets to beat Diego Schwartzman - a match which his new mentor missed much of due to sponsorship commitments.
Since retiring in September 2006, Agassi has been focused on his charitable foundation and has rarely been seen near a court on tour. After turning 30 Agassi won two grand slam titles and reached two US Open finals and will hope to transfer some of that knowledge on to his new protege.
"It isn't so much about my experiences in winning," he told ITV. "Coaching is about learning, coaching is about understanding how someone sees themselves on the court. What inspires them off the court, who they are. My experiences might be relevant and they might not be.
"My thoughtfulness about the game and life is something that we both share equally: he is just better at it than I am. So if I can help achieve his dreams of balance off the court and his goals and objectives to affect a lot of peoples lives that would be an honour for me to do. I think it is important to do great things on the court. I think he is going to do great things off the court past is career so if I can be a help guiding that I want to do that."
Husband to former women's world number one Steffi Graf and father to two children at their Las Vegas home, Agassi's personal life means he is unable to fully commit to Djokovic. Agassi expects to remain part of his team for Wimbledon in July but admits he is working as his advisor without being paid.
"I was pretty clear that it is not something I can do on a big time level," the 47-year-old conceded. "But then over the phone we could accomplish a lot and we were unquestionably. His processing, his spirit, his motivations, his inspirations and I started to grow respect. My wife thought I might be interested to come and spend some time with him so I did and I'm here and he is a good man. I'm glad I am here but I'm here on my terms, I'm here on my dime as well. I don't want anything from him except to help him if I can."