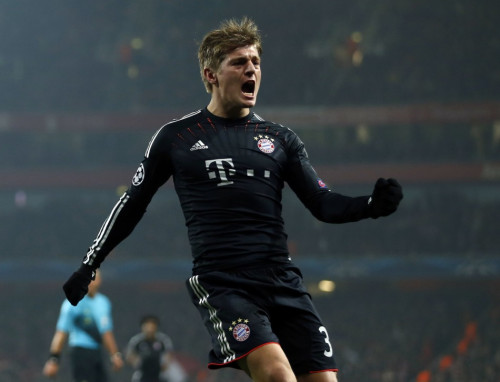 Former Real Madrid playmaker Gunter Netzer has issued a warning to Manchester United target Toni Kroos by claiming that he could be replaced at Bayern Munich.
David Moyes personally scouted Kroos while in action during Bayern's 2-0 win over Borussia Monchengladbach in January. United were reportedly keen on signing the midfielder as they were preparing a £25m deal in signing the player.
The German international's contract with the treble winners runs down in 2015. The 24-year-old has not signed a contract extension at the Allianz Arena and was heavily linked with a move to Old Trafford in the mid-season transfer window.
However, no deal took place despite Bayern manager Pep Guardiola claiming Kroos may leave the club. The Champions League winners' chairman Karl-Heinz Rummenigge remains hopeful that the player could reach an agreement with the German champions to extend his stay in Munich.
Netzer claims Kroos is playing a "risky game" and has advised that the midfielder could achieve a lot of success at the Allianz Arena, should he decide to sign a new deal with his current employers.
"I would advise Toni Kroos not to overplay his hand. He could enjoy a lot of success at Bayern. It's not easy to leave a big club like Bayern. There are a few players that cannot be replaced, but Kroos is not one of them," Netzer told Bild.
"Kroos is playing a risky game at Bayern. The club is determined not to pay huge wages to all their players in order to stay financially healthy."
"We could see this become a situation where Kroos forces Bayern to set an example. He might be overrating himself a bit in a way that his wage demands do not reflect his worth to the team. He'd act wisely to have a good look at the squad and re-think his own situation," the former German international concluded.
Kroos was the part of Bayern's midfield last campaign as the German outfit won the Bundesliga, DFB-Pokal and the Champions League under Jupp Heynckes, before winning the FIFA Club World Cup under the former Barcelona manager late last year.