The Duchess of Cambridge stunned in a glittery dress by Erdem at Buckingham Palace the night before, but was fresh-faced and smart in a blue tweed suit for her bright and early engagement at a children's hospital today (28 February).
One thing that Kate Middleton didn't seem to have time to change between the two events is her hairstyle, which was in the exact same blow-dried half-chignon as the previous evening.
Despite her late night, the royal looked fresh-faced and impeccable on the chilly morning appearance today in an authoritative blue suit by Rebecca Taylor adorned with silver threading as she visited the Ronald McDonald Evelina London House.
The form-fitting tweed design highlighted the duchess' trim physique and featured fringed detailing for an extra stylish touch as she accessorised with some navy suede stilettos and a satin clutch bag. The look was a stark contrast from last night's outfit of a sparkly nude lace dress by British-based designer Erdem, styled with ultra-glamorous Oscar de la Renta platinum heels.
Her visit to the children's hospital marked the opening of their purpose-built "home away from home" accommodation for the families treated at Evelina London. Upon her arrival, the duchess was gifted a bouquet of flowers from an eight-year-old girl named Isabelle Randall. Her younger brother Luke, six, is receiving treatment at Evelina.
Middleton appeared delighted to meet the young children and staff as she arrived, as hospital workers decorated the Lambeth centre with flowers and iced cupcakes in their signature colours of red and yellow to mark the special occasion.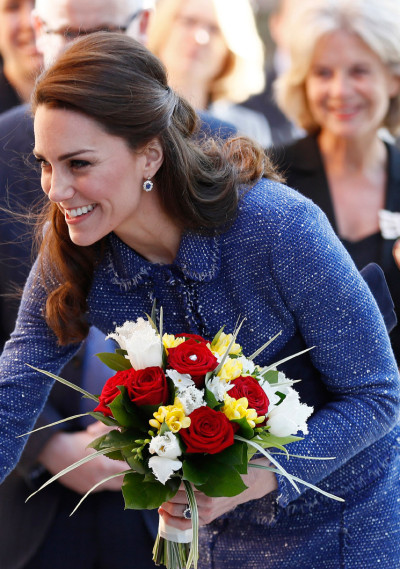 They also tweeted: "Preparations are complete, the House is ready and families are waiting to greet HRH The Duchess of Cambridge at our Evelina London House!"
Middleton also met other families including Dion and Danielle on her tour of the hospital, whose baby Mia has been at the children's hospital for more than seven months, and baby Jack from Glasgow who was born with half a heart. She later spoke to children in the kitchen, who were participating in crafts and decorating pancakes for Shrove Tuesday.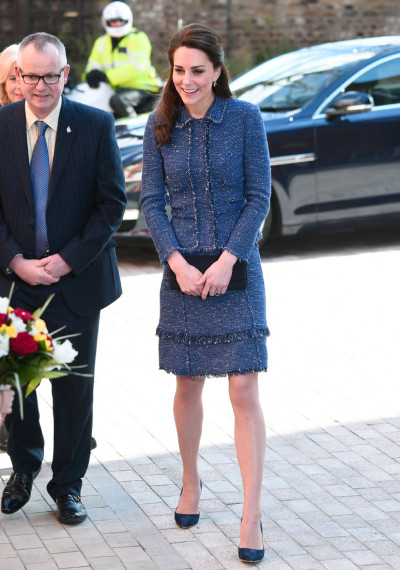 The duchess then unveiled a plaque to officially open the Evelina London House in front of an audience of families, House staff and supporters. The house comprises of 59 bedrooms and offers comfort, support and a save environment where families can interact and share their experiences. Families will also be allowed to stay free of charge for as long as they need while visiting their child in the hospital.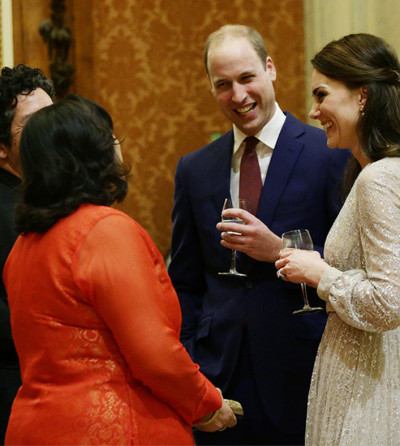 The House, costing £13m, is run by Ronald McDonald House Charities, which is an independent charity founded in 1989.
Last night, the duchess joined her husband Prince William in supporting the Queen as host of a colourful reception in Buckingham Palace to launch the official UK-India Year of Culture 2017.