Hamas Anniversary Rally in Gaza Likely to Attract 200,000 Palestinians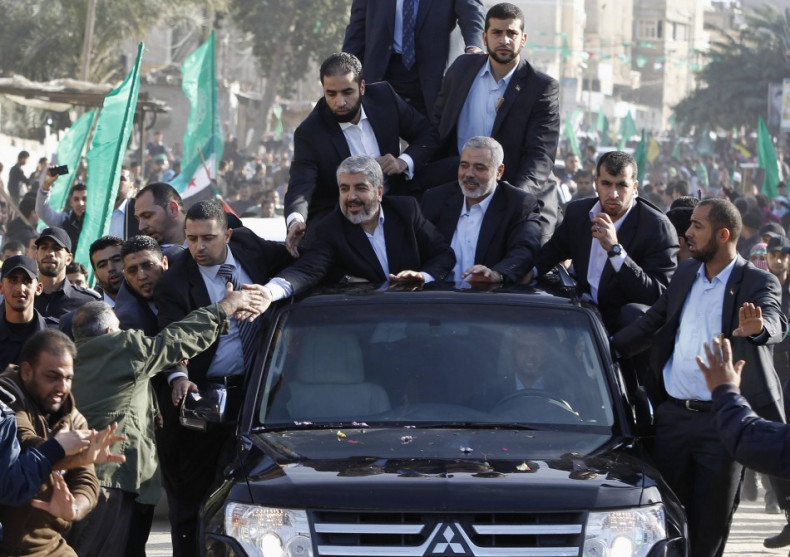 Hamas' 25<sup>th anniversary rally in Gaza is likely to attract around 200,000 Palestinians after its exiled leader Khaled Mashaal was given a hero's welcome.
On his first visit to the region, Mashaal is expected to address the rally marking the anniversary.
Seeking reconciliation with its political rival Fatah, Mashaal will also use the opportunity to capitalise on Hamas' growing influence in the Arab world.
Mashaal was welcomed by top figures including Hamas Prime Minister Ismail Haniyeh.
Hamas, the Islamic militant group which has declared as a terrorist organisation by a dozen nations, including the US and the EU member states, has been growing in strength in the region over the years.
Hamas considers itself the victor over Israeli Defence Forces in the latest Israeli offensive in Gaza that left nearly 170 Palestinians and six Israelis dead.
Mashaal will speak beside a giant replica of the Fajr missile (M75) which was extensively used in the eight-day-long conflict against Israel. The Gaza Strip has been festooned with green Hamas and Palestinian flags to commemorate the occasion.
"Mashaal's speech will outline the priorities of the Hamas movement in the coming future, and especially the implementation of reconciliation (with Fatah)," Hamas spokesman Sami Abu Zuhri told Reuters.
Mashaal, 56, who survived an assassination attempt by Israeli agents in Jordan in 1997, called his visit to the region his "third birth".
"I was born in 1956, and my second birth was when I survived the assassination attempt initiated by (Prime Minister Benjamin) Netanyahu. But God was stronger than him, and I hope Allah will grant me martyrdom in Gaza.
"My fourth birth will be on the day Palestine is liberated. Today it is Gaza and tomorrow it will be Ramallah, then Jerusalem, Haifa and Jaffa," said Mashaal.
On the first day of his visit, Mashaal expressed his wish to repair its strained relationship with Fatah, a move that may help Hamas on the world stage.
"With God's will... reconciliation will be achieved. National unity is at hand," Mashaal said.
While Hamas is engaged in an armed struggle with Israel, Fatah largely believes in achieving Palestinian rights through political means.