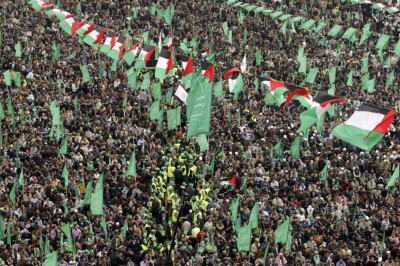 Tens of thousands of Hamas supporters, waving the militant movement's flags, gathered in Gaza to celebrate the 24th anniversary of the founding of the group, which was also relayed on Twitter.
The annual rally showed the large popular support for the movement that took control of Gaza in 2007, following fighting with troops loyal to Palestinian President and Fatah leader Mahmoud Abbas.
A huge stage, shaped like a ship to symbolise Hamas' dream of retaking all of the land between the Jordan River and the Mediterranean Sea, was set up for the celebrations.
A replica of Jerusalem's Al Aqsa Mosque had also been installed, with banners reading: "Oh, Jerusalem, we are coming."
Hamas issued a statement on Wednesday, saying: "The resistance will continue, in every way, until the movement is able to free Palestine and see the refugees return."
In a warning to former political rival Fatah, Gaza's rulers also insisted: "The gamble on the negotiations with Israel has failed. It is important that the Palestinian leadership, which pursued the negotiations, reconsider its political way."
The group nevertheless also reiterated the message: "The movement is committed to implement the Palestinian reconciliation deal."
In November, the Fatah leader Abbas reconciled with his former rival, Hamas leader Khalid Mashaal, and the pair announced that the two factions would now present a united front. "There are no more differences between us now," Abbas stressed.
As celebrations took place in Gaza, Hamas' armed wing, the Ezzedeen Al Qassam Brigades, took to Twitter to celebrate the anniversary.
The group posted excerpts of a speech by Ismail Hniya, the prime minister of the Gaza government.
There were also Tweets about its martyrs, the number of Israelis killed in Hamas-led operations, as well as the prisoners released in swaps with Israel:
"During the past 24 years, Al Qassam mourned 1,848 martyrs, while it has killed 1,365 Zionist soldiers and injured 6,411others.
"We succeeded in releasing 1,050 male and female prisoners from Zionist jails in the 'Devotion of the free' swap deal.
"During the past 24 years of Hamas founding, Al Qassam Brigades implemented 1,117 jihadist operations, 87 [of which] were martyrdom," the group added.
Meanwhile, also on Wednesday, reports suggested that a Hamas lawmaker was arrested by Israeli troops in the West Bank.