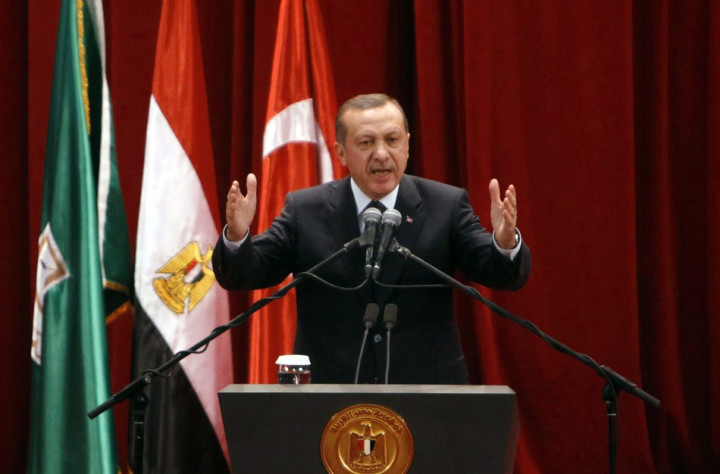 Turkey's prime minister, Recep Tayyip Erdoğan, has condemned Israel's military operation in the Gaza Strip and accused the Israeli Defence Force of carrying out "terrorist acts" in the beleaguered Palestinian enclave.
"Those who associate Islam with terrorism close their eyes in the face of mass killing of Muslims and turn their heads from the massacre of children in Gaza," Erdoğan told a conference of the Eurasian Islamic Council in İstanbul.
"For this reason, I say that Israel is a terrorist state and its acts are terrorist acts."
Along with Qatar and Egypt, Turkey was trying to broker a ceasefire to halt airstrikes on the Gaza Strip. The Turkish foreign minister and a delegation of Arab foreign ministers are expected in Gaza on Tuesday.
UN secretary of state Ban Ki-moon said hewas "deeply saddened" by the number of civilian deaths and urged an immediate ceasefire. He was heading to Cairo to participate in Egyptian efforts to secure a truce between Hamas and Israel.
But Israel's finance minister, Yuval Steinitz, told Army Radio that the IDF would expand operations within hours, not days, if a truce were not reached. Another official told Reuters that Israel was ready for a ground invasion - although it preferred a diplomatic solution.
"We would prefer to see a diplomatic solution that would guarantee the peace for Israel's population in the south. If that is possible, then a ground operation would no longer be required," he said. "But if diplomacy fails, we may well have no alternative but to send in ground forces."
The Gaza health ministry confirmed that the conflict had claimed 91 Palestinian lives and had wounded over 700 people.
According to a poll conducted by Dialog for the daily Haaretz, the overwhelming majority of Israeli citizens (84 percent) support Operation Pillar of Defence. However, only 30 percent of the Israeli public backs a ground offensive in the Gaza Strip.
Israel-Turkish relations have worsened since the IDF attacked a Gaza-bound aid flotilla in May 2010. Nine Turkish citizens died and dozens were injured in the assault.