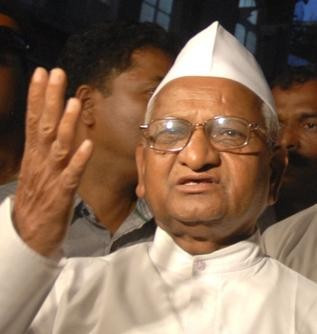 India's Rahul Gandhi, a descendant of one of the most powerful political families in the country, criticised a hunger strike by Anna Hazare, an anticorruption activist who has been embattled in a fight with the Indian government.
Gandhi, a ruling Congress party MP, praised the 74 year-old activist for mobilising the people against corruption, but warned his hunger strike was "a dangerous precedent for a democracy."
The comments came after Hazare's public fast entered its 11th day. The activist is pressing the Indian Parliament for the creation of his version of a Lokpal, or government watchdog, to tackle corruption.
His arrest two weeks ago amplified a wave of protests against the government and saw the activists' popularity soar rapidly. His message has reached out to large factions of the Indian civil society and tens of thousands of supporters called for his release.
After Indian Prime Minister Manmohan Singh issued an emotional appeal Thursday calling on Hazare to end his hunger strike, the activist appeared to soften his stance but no deal has yet been reached. Singh reiterated the will of the government to take control of the corruption debate and problem in the country.
Hazare was released from his cell on Aug. 16, but only left jail on Aug. 19, as he refused to leave unless authorities allowed him to continue his hunger strike.
In a speech before the parliament, Gandhi thanked Hazare for articulating Indians' anger at corruption but called his hunger strike a "tactical incursion" into government functioning aimed at undoing the checks and balances of parliament.
"Today the proposed law is against corruption. Tomorrow the target may be something less universally heralded. It may attack the plurality of our society and democracy," he said.
Gandhi noted that the creation of a strong watchdog committee wouldn't suddenly solve India's corruption problem.
"There are no simple solutions to eradicate corruption," he said, instead proposing new policies such as the funding of elections and parties by the government and calling on more transparency in government contracts, tax reform and better regulation of the land and mining sectors.
"To eradicate corruption demands a far deeper engagement and sustained commitment from each one of us."