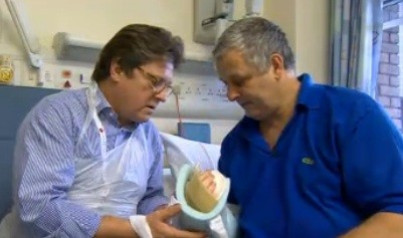 Doctors have successfully undertaken the first hand transplant in the UK following an eight-hour procedure at Leeds General Infirmary.
Mark Cahill, from Greetland, near Halifax, was given a new right hand because his own did not function following severe gout.
The former pub landlord, 51, was one of two candidates put forward for the operation and was selected because he had the best tissue match with the donor.
Prof Simon Kay, the consultant plastic surgeon who led the procedure, said: "This operation is the culmination of a great deal of planning and preparation over the last two years by a team including plastic surgery, transplant medicine and surgery, immunology, psychology, rehabilitation medicine, pharmacy and many other disciplines.
"The team was on standby from the end of November awaiting a suitable donor limb, and the call came just after Christmas.
"It was extremely challenging to be the first team in the UK to carry out such a procedure.
"Any organ donation brings something positive from tragedy and I would like to acknowledge the tremendous gift the family of the donor have made at such a distressing time.
"It is still early days but indications are good and the patient is making good progress."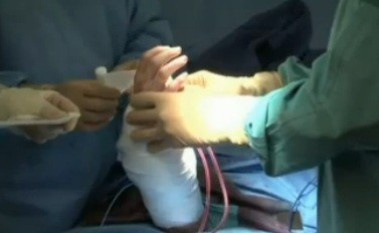 The operation to remove the donors hand and reattach it to Cahill was done simultaneously so as to accurately restore nerve structures.
Before Cahill was picked for the operation, the potential candidates had to undergo rigorous health and psychological assessments to make sure they understood the implications of the procedure.
Cahill said: "It's how I expected it to look, because I've done a lot of research about hand transplants.
"But you can do all the research you want but you don't know how you're going to feel. I've had a lot of help from psychologists because the biggest thing is afterwards, whether I would accept it as mine."
Although this is the first UK hand transplant, it is not the first worldwide. The first ever recipient was Clint Hallam, from New Zealand, who lost his original hand in a prison in 1984. The operation took place in France in 1998.
Hallam later had the hand removed after he stopped taking the immunosuppressive drugs, saying he felt "mentally detached" from the hand.
Following Cahill's surgery, a spokesperson for the NHS Blood and Transplant service, urged people to sign up to the Organ Donor Register as there are thousands of people waiting for transplants in the UK.
A spokeswoman said: "Our thoughts are with the family of the donor at this time. Without their agreement for donation, this operation would not have taken place. We also send our best wishes to the recipient for a healthy recovery."