Heartbreaking photos of a severely malnourished child in conflict-ridden Syria is the latest evidence of the horror the six-year-long war is inflicting on civilians. The photos were taken at a hospital in the rebel-held town of Hamouria hours before the one-month old baby breathed her last.
Sahar's skeletal body weighed just 4lbs (1.9kg) when the girl reached the hospital, in the outskirts of Damascus, on 21 October.
Her mother was too malnourished to breastfeed her and her father could not afford to buy milk and supplements for the couple's only child, AFP reported.
Sahar died at the hospital the following day and her parents took her to the nearby town of Kafr Batna for burial.
Deaths from malnuritrion are common in the eastern Ghouta region, where humanitarian access is restricted due to a blockade imposed by the Syrian regime in 2013.
"Residents suffer from severe food shortages, and when goods are available in the markets, it's at a crazy price," the London- based Syrian Observatory for Human Rights said.
Doctors in the area say the number of malnourished children is on the rise. Severe acute malnutrition is the most extreme form of undernourishment. A life-threatening condition, it requires urgent treatments, according to the World Health Organisation (WHO).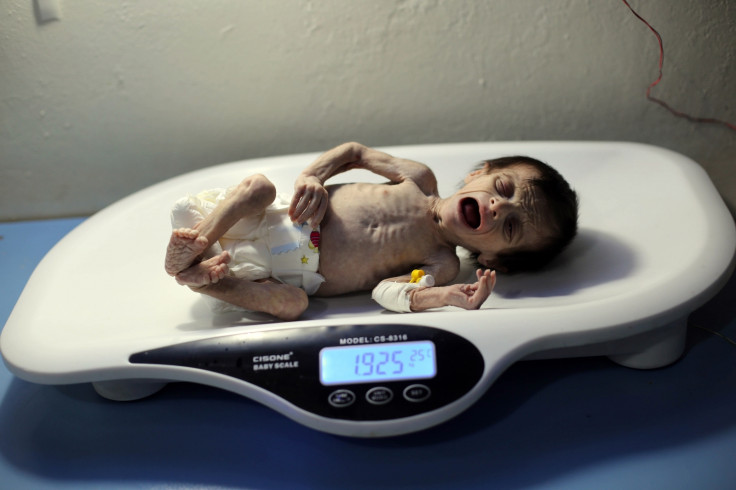 YahyaAbuYahya, doctor and regional head of medical services for Turkish NGO Social Development International, told FAP that the group's centres had examined 9,700 children in recent months.
"Of these, 80 were suffering severe acute malnutrition, 200 had moderate acute malnutrition, and about 4,000 were suffering from nutritional deficiencies," he said.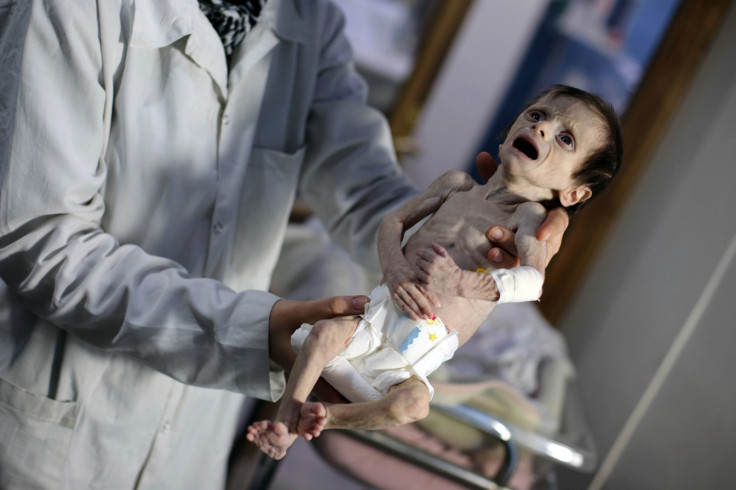 Syria descended into war in 2011 , when President Bashar al-Assad deployed government troops to quash anti-government demonstrations in several areas of the country.
Assad refused to step down as violence spread throughout the region.
Despite several ceasefires and the intervention of international coalitions, the conflict deepened and fostered the emergence of anti-Assad rebel groups.
The warring sides involved in the conflict are numerous. A US coalition backs some of the militia groups that want to overthrow Assad, including the Free Syrian Army and Syrian Democratic Forces.
On the other side, Russia, Iran and Hezbollah back Assad forces.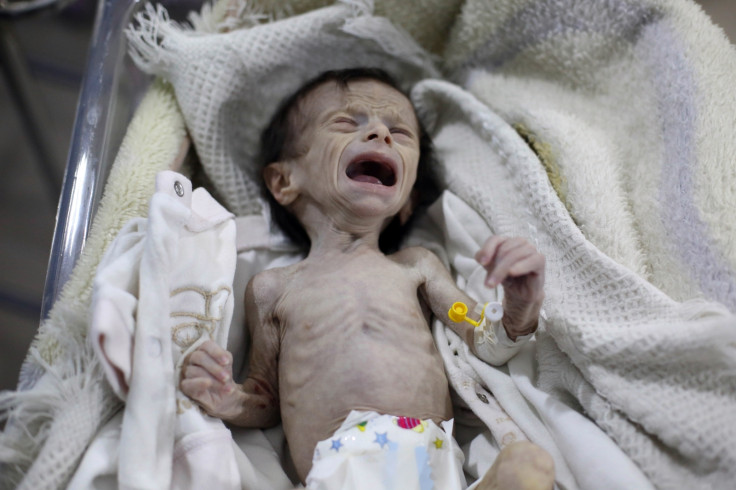 The Islamic State (Isis) terror group fights both pro- and anti-Assad forces and aims to establish an Islamic caliphate throughout the occupied territories.
The conflict has resulted in the deaths of hundreds of thousands of people and the displacement of millions.
Earlier this month, Isis lost Raqqa, its major stronghold in Syria. The group seized the town in 2014, turning it into the capital of its self-declared Caliphate.
Although it still controls pockets of Syria and Iraq, Isis is progressively losing territories in both countries due to multinational offensives that have led to the recapture of several territories held by the militants.