Harry Kane wants to become 'club legend' at Tottenham Hotspur after rejecting Manchester United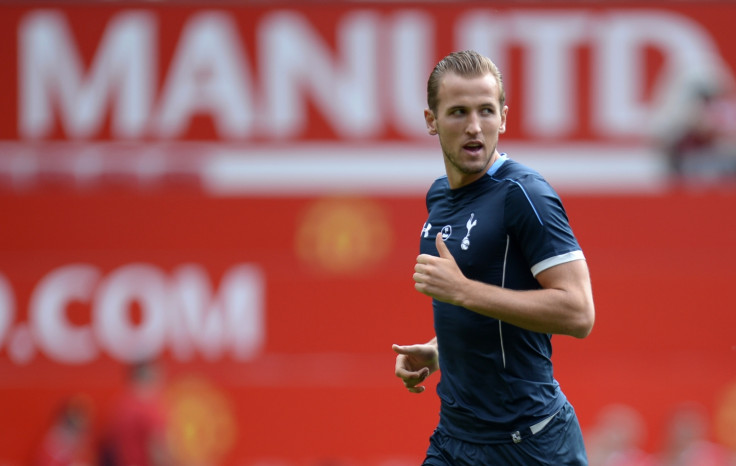 Tottenham Hotspur striker Harry Kane has refused to fuel rumours over a potential move to Manchester United. The England international, who netted 31 goals in all competitions last term, wants to become a "club legend" in north London after taking on the famous Spurs number 10 shirt.
The Guardian has reported that Spurs have told United to forget signing Kane during the remaining weeks of the summer transfer window. The Express understand that the 20-time English league champions would be wiling to pay £40m for the player. After Robin van Persie and Radamel Falcao's departure Louis van Gaal is short of forward options but the White Hart Lane side are refusing to budge.
Mauricio Pochettino said before the start of the campaign that Kane, who played for England at the Under-21 European Championships in the summer, was excited ahead of the new campaign. The 21-year-old has supported the Argentine's claim and has all-but rejected a future move to United.
"I want to become a club legend," he told The Daily Telegraph. "You are always going to face pressure in football. But I'm very strong-minded and I know what I want to achieve and taking that number 10 shirt was just another part of that.
"I'm happy," he added after been asked about United's interest. "I'm focussed on what I do. I'm happy at Tottenham which is a great club heading in the right direction. I'm excited and the season has started now, which is great, so I just want to get the games going, get into that rhythm and start scoring goals."
United boss Van Gaal is a known admirer of Kane but the ex-Netherlands coach looks increasingly likely to stick with his current attacking options. Adnan Januzaj had been linked with a loan move away from the club but after the Belgium winger marked his first start since February with his first goal since April 2014, he looks set to stay.
Kane started the opening day defeat at Old Trafford but failed to make an impact as Kyle Walker's own goal saw Tottenham start the campaign with a defeat. Despite failing to open his account for the new season, the forward is unperturbed.
"I know that if I don't score in the next two or three games people are going to asking 'so is he that one-season wonder?' but it's part of it," he explained. "I'm in no rush. You want to hit the ground running and want to score in every game but I'm not going to be panicking if I go a couple of games without scoring because I know there is a lot of time.
"Thirty-one goals is a lot of goals and I'm very proud of what I achieved last season. I just want to keep improving on the pitch, improving in training and try and be better. Hopefully I can score just as many and that will be great but, for me, now there is no panic.
"Defoe told me once 'if I miss a chance then the odds are now in my favour to score the next one because the chances of missing two in a row are less than missing one'. And that's what I try and take. If I miss, then the next one is more in my favour to score. It's about little things like that."
© Copyright IBTimes 2023. All rights reserved.