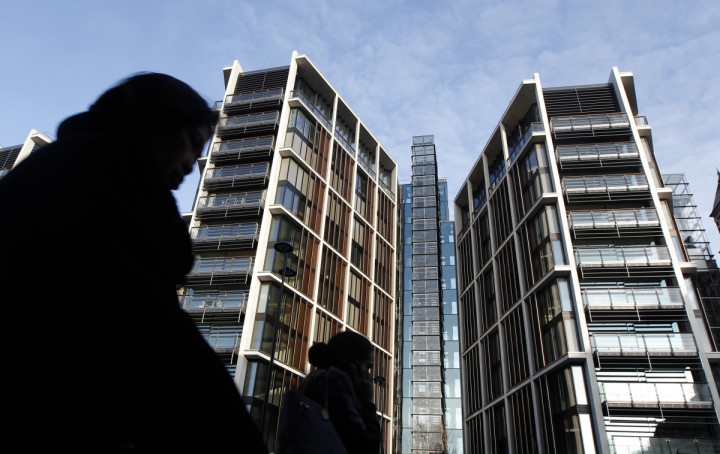 After months of bubble talk and bloating concerns, the London housing market looks to be deflating.
But is this just the usual seasonal slowdown in the summer? Or is there something more profound happening to the city's market?
New regulatory rules are tightening mortgage lending. House building is accelerating. House prices may have reached the limit of affordability for Londoners. And a stronger pound could deter foreign investors.
"The reality is that seasonally you would expect fewer enquiries," Charles Peerless, director of West End at the London-based estate agency Winkworth, told IBTimes UK.
"I suspect it is catching its breath, but there is nothing to indicate anything dramatically changing. It's just a bit more of a normal market."
Rightmove, the property website, said that the average London house price fell by 5.9% in August to £552,783. It was the third consecutive monthly decline.
Meanwhile, the Royal Institute of Chartered Surveyors (Rics) said in its July residential market survey that London saw both sales and new buyer demand fell more sharply than elsewhere.
"Holidays always cause a big price reverse in the capital," Miles Shipside, Rightmove director, said.
"But there is also a massive year-on-year jump in the number of newly-marketed properties, up 20% compared to August last year, and double the figure seen in any other region. More sellers and fewer buyers mean price falls."
Peerless of Winkworth said that there had also been a glut of overpriced property on the market, but those priced sensibly would still sell despite the subdued seasonal demand.
He highlighted one of his own agency's recent sales from June. There was a central London flat with great views across the city, needing some work doing to it, which was priced at £1.75m. Only two people were competing to buy it, when earlier or later in the year it would be five or six. It sold.
"The point is, it's still gone for the same price that we would expect it to. So if it's priced properly, then things will sell," Peerless said.
"We're not having to drop prices to sell them. The people who are reducing are the ones who are trying too high. Whereas in the past they would try high and it would probably rise to that price."
Regulators
Higher house prices, particularly in London, are a problem for regulators. According to the Office for National Statistics (ONS), the average price of a London home leapt by 20.1% across the year to May 2014, hitting £492,000.
It means households have to become more indebted to buy a home because they need larger mortgages.
The Bank of England's record-low base rate of 0.5% has held down monthly debt repayment costs since 2009. But the central bank is ready to hike interest rates again as the economic recovery strengthens.
This has implications for the recovery as an interest rates rise will mean households funnelling more of their incomes towards debt repayments rather than spending. Some could even default.
So the Financial Conduct Authority (FCA) is forcing lenders to ask more probing questions of potential borrowers to ensure they can afford monthly mortgage repayment in a number of different situations, such as a sudden drop in income or higher interest rates.
And the Bank of England will curb new mortgage lending from October 2014. Banks will only be able to make up 15% of their new mortgage lending with loans worth 4.5 times or more an applicant's income, a move that will affect London in particular.
According to industry group the Council of Mortgage Lenders (CML), around 9% of UK mortgages are worth more than 4.5 times the applicant's income. In London alone this becomes 19%.
"I think it's actually a good measure, to have some kind of control," Winkworth's Peerless said, though he added he doesn't think the impact of the Bank of England's rules will be significant.
"The eagerness to lend beyond reasonable earnings has been evident twice in the last 20 years – and both times has resulted in people being hit badly."
Simon Gerrard, president of National Association of Estate Agents, said a slowdown was "completely natural" in the summer.
But he added that that two major factors – the looming risk of higher interest rates deterring potential borrowers and the FCA's new affordability tests regime – were making their mark on the London market.
Sterling
Foreign investment into London property, seen as both a hot investment and a safe haven for capital flowing from politically troubled economies, has fuelled part of the rapid house price growth.
But sterling is soaring in value against other currencies as the UK economic recovery gathers pace and the prospect of monetary policy tightening by the Bank of England draws closer on the horizon.
"I think the international buyer, particularly those in the Far East, are slightly taking a second look at this now because not only have prices moved a long way upwards, sterling has strengthened by about 20% in recent years," Peerless said.
"I hear it. I go to the Far East two or three times a year. You hear it when they're slightly getting 'oh, that's a bit expensive'."
In a recent report, the Centre for Economics and Business Research (CEBR) said London house price growth will be 16.1% on average in 2014, before slowing rapidly in the following year to 11.4%.
"Given sterling's appreciation and as the global economy recovers, we expect that demand from international buyers for London property will ease due to other asset and investment classes becoming less risky," the CEBR said. "This will reduce pressures on housing in the capital."
House building
Though average earnings are higher in London, the pace of house price growth has been so rapid that it is closing evermore people out of the city's property market. Instead people must rely on shared-ownership schemes or the likes of Help to Buy to get their first homes.
But the fundamental problem in the market is not incomes. It is simply that demand far outstrips supply, driving up prices. House building is running at around half the level of demand in London and under constant pressure from an increasing population, which is set to hit 10 million within a few years.
House building is now picking up, which should help to ease some of that pressure. Mayor of London Office data shows there were 6,520 affordable housing starts in the first three months of 2014, up from 5,490 a year before. Those at market prices saw 14,960 starts in the first quarter, up from 11,420 in the same period in 2013.
While the pace of growth may slow, and building work picks up, house prices in London will continue to push upwards with some force unless the supply of homes improves drastically.