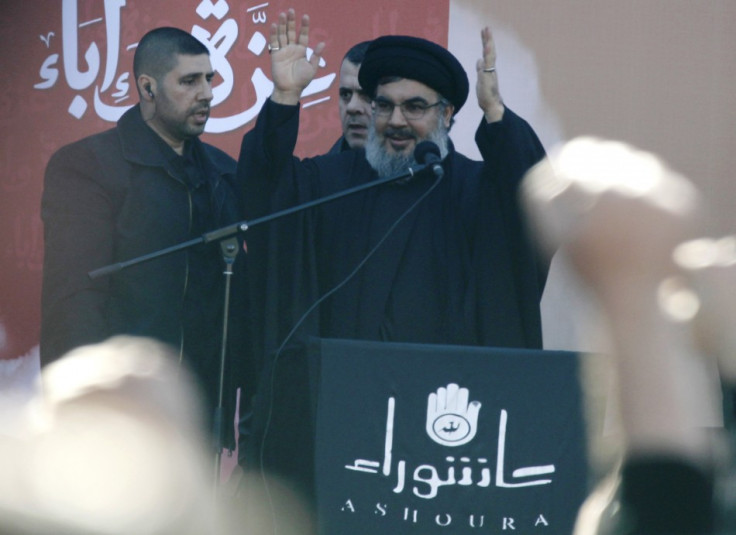 Despite spending most of his time in hiding, Hezbollah chief Hassan Nasrallah made a rare public appearance in Beifut during celebrations for the Shia holy day of Ashura.
Surrounded by bodyguards, Sheikh Nasrallah addressed his supporters briefly in Dahaniya, a suburb south of Beirut.
It is the first public appearance that Nasrallah has made since 2008. He said he wanted to send a message to those who think they can "threaten and intimidate us."
"I wanted to be among you for a few minutes. I always want to be with you and now let us renew our union with Hussein (the grandson of the prophet Muhammad)," the leader said before quickly leaving the stage.
Ashura, which is holy to Shiite Muslims, marks the anniversary of the death of the Prophet Muhammad's grandson Imam Hussein in the seventh century. His death in a battle outside of the Iraqi city of Karbala sealed Islam's historic Sunni-Shiite split, which continues to bedevil the Middle East.
A pre-recorded message of the Hezbollah leader was then broadcast to the cheering crowds.
"No plot or enemy has ever been able to [soften] the demands of the resistance," Nasrallah said in a message to his followers. "Hezbollah does not want anything in return for the jihad and the resistance.
"We don't seek government positions and, if we took up arms and chose resistance, it is because God ordered us to do so.
"We will stick to the resistance. We grow stronger every day. We train, we build our confidence and our reserves of arms," he said.
His first public appearance in three years comes at a time when Hezbollah and Iran have been widely criticised by Arab states and Syrian protesters for their support of the Syrian regime.
With Syrian President Bashar al Assad's options narrowing and calls by the Syrian opposition for a no-fly zone in the country, Nasrallah warned Hezbollah's enemies that the Shiite Islamist group is ready for an armed struggle.
"The real threat to the [Palestinian] nation is the American-Israeli plan. The American administration will be president and the enemy will conquer Palestine," he said.
He also mentioned that the rise of Islamist parties in Egypt "poses an existential threat to Israel".
Praising Hezbollah's capabilities, Nasrallah stated that the group would not lay down the "arms of the resistance".
"We train and grow stronger each day. Out faith becomes stronger, as do our weapons," he said, adding that Hezbollah's rockets could reach "way, way beyond Haifa".
As the leader of Hezbollah, Nasrallah experienced rapidly growing popularity in the region, though the group's support for the Assad regime has led to a backlash, especially in Syria, where protesters have burned the group's flag as well as pictures of its leaders.