Helmut Kohl dead: German chancellor who oversaw reunification dies aged 87
Tributes paid to one of the leading statesmen of the 20th century.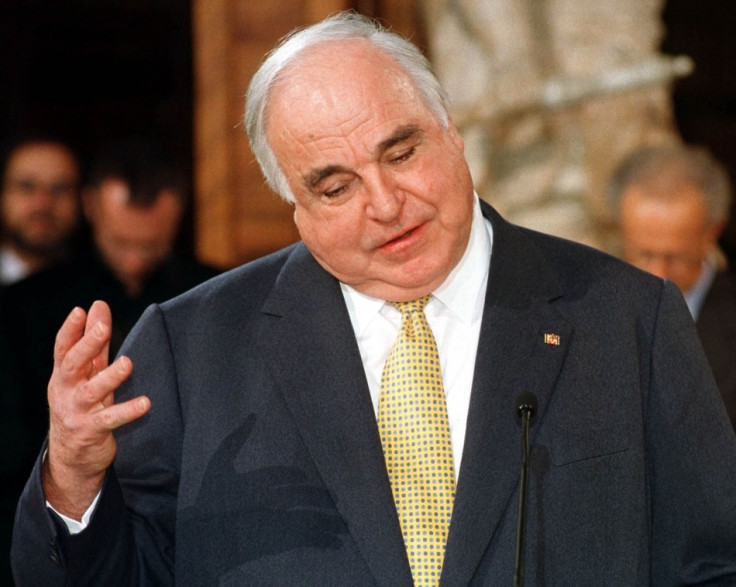 Former German chancellor Helmut Kohl has died aged 87.
Winning four elections as well as overseeing the reunification of Germany, he was one of the most influential figures in modern German history.
Born in the small West German town of Ludwigshafen in 1930, Kohl's childhood was overshadowed by the rise of Adolf Hitler and the Second World War.
He studied law at Frankfurt before joining the historic Heidelberg University to study history and political science.
In 1946 he joined the newly founded CDU political party – today led by Angela Merkel.
He quickly shot up the ranks of the party before becoming minister-president of Rhineland-Palatinate. At the age of just 39, he was the youngest person ever to hold the position.
In his time as regional leader, he focused heavily on education, banning corporal punishment and parochial schools.
In 1976 he was chosen as the CDU candidate for chancellor. He received almost 49% of the vote but this wasn't enough to prevent Helmut Schmidt's Social Democrats from remaining in power after they formed a coalition with the neo-liberal Free Democratic Party.
In 1982, while serving as leader of the opposition, he dramatically came to power when a vote of no confidence saw the Schmidt administration collapse and Kohl appointed chancellor.
He went on to win four successive elections in 1983, 1987, 1991 and 1994. This was despite discontent over his domestic policies with reforms often slow to come about.
Kohl was also criticised in 1985 for visiting a cemetery with US president Ronald Reagan in Bitburg, where members of the Waffen SS, a paramilitary wing of the Nazi regime, were buried along with German and American soldiers.
He also compared Soviet Communist Party leader, Mikhail Gorbachev, to Nazi Propaganda Minister Joseph Goebbels.
But it was his relationship with Gorbachev and the Soviet Union that would cement Kohl in history.
Kohl famously sat alongside Reagan in 1987 as the US president demanded Gorbachev "tear down this wall".
In the summer of 1989 Kohl welcomed the Soviet leader to Bonn saying: "Many people are pinning their hopes on your visit here – people back home in your country, and here in ours."
Neither of the pair were prepared for the collapse of the Wall just a few months later.
Kohl was in Poland when the Berlin Wall fell and hurried back to Berlin, saying: "We Germans have learned from history.
"We are a peace-loving, freedom-loving people. For us, love of our native country, love of freedom, and the spirit of being a good neighbour always belong together."
Kohl was at the peak of his success, but as the 1990s dragged on, his popularity dropped as the process of reunification took its toll.
The formation of five new German states in the east of the nation was slow, and living standards failed to meet those in the west.
To this day, a gap between the two sides of the country remains.
In 1998, a coalition of the social democrats and the Greens brought his 16 years as chancellor to an end.
It was a tenure that to this day remains the longest-ever, barring 18th century leader Otto von Bismarck.
A scandal soon embroiled his political team when in 1999 it was revealed that the CDU had received illegal donations.
Kohl eventually admitted accepting millions of Deutschmarks in illegal contributions, had his honorary party membership revoked and at a special party convention Kohl was asked to give up his seat in parliament as well.
He payed a fine that resulted in all charges being dropped, but this chapter brought a dramatic end to a man who had shaped German politics for more than two decades.
His wife of more than 40 years, Hannelore Renner, took her own life via overdose of sleeping pills. The pair had two children.
In 2008, at the age of 78, he married Maike Richter.
As the memories of the scandals faded, his former protege Angela Merkel and other senior politicians welcomed him back into the fold, recognising the work he had done during his tenure as chancellor.
He continued to recieved praised and awards and in 2011 was handed the Henry Kissinger Prize for exceptional contributions to transatlantic relations.
Bill Clinton described him as "the most important European statesman since the Second World War".
Writing in Time magazine while the two were both leaders of their nations, former US president George H W Bush said that Kohl's "legacy is truly remarkable—so much so that history will likely regard him as one of the most influential figures of modern Europe. For my part, I view him as the greatest European leader of the second half of the 20th century."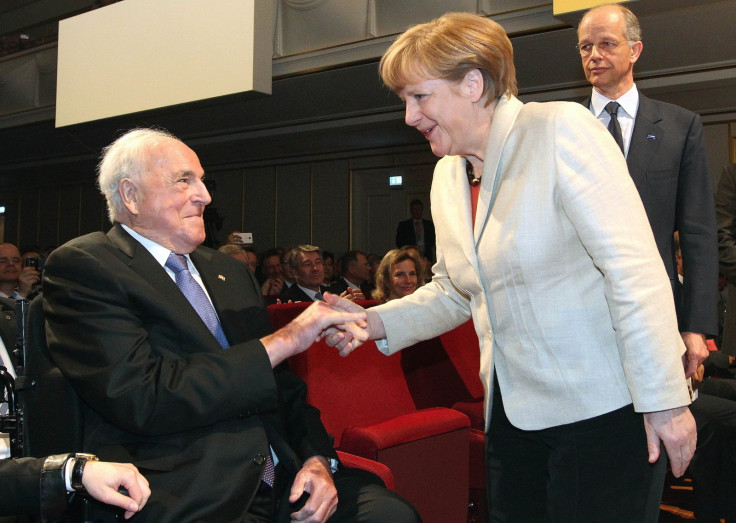 © Copyright IBTimes 2023. All rights reserved.