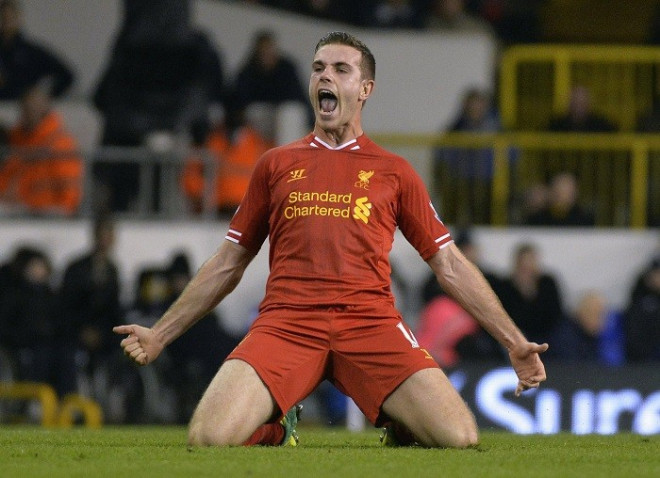 Jordan Henderson believes Liverpool's good run at Anfield Road this season has been the reason why the Reds are still in the Premier League title race.
Liverpool have lost just one out of 13 games at home this season, securing 12 victories and scoring 38 goals while winning only five of their 13 games away. Only Chelsea has lost less games than the Reds at home while only Manchester City have managed to score more goals at the Etihad than Brendan Rodgers' side at Anfield.
Henderson believes this is the Reds' secret to maintaining fourth place on the Premier League table, just four points behind leaders Chelsea. In an interview with Liverpool official website he says he hopes to keep the run going.
"I think now, nobody wants to come to Anfield. It's a fortress, really.
We need to make sure that we keep that going for as long as we can because it's a big reason as to why we've been doing well this season. We need to keep our home form going and build on the away form as well," the midfielder added.
Henderson believes that recent victories against Arsenal and Everton should give them the confidence to fight for the Premier League title.
"The games against Everton and Arsenal were fantastic wins. From start to finish, both games were amazing.
"We've got to take a lot of confidence from them, but we have to do it every week as well. It will be hard to, but we have to make sure we do it on a consistent basis. We're working so well as a team in those games. We can build on that and push really high up the league."
Liverpool face Swansea at home after one week's rest and they can take advantange of Arsenal's and Manchester City's fatigue due to Champions League games to advance on the Premier League table.
Liverpool host Swansea City at Anfield on Sunday and Henderson believes they have to keep their high standards against opponents to secure another victory.
"We just want to get out there and give 100 percent. I'm sure it will be a very difficult game because they are a good side. They have some good players and they keep the ball very well. So we'll have to make sure that right from the start we get right at them and we press them as much as we can.
We need to win the ball back high up the pitch. It will be very tough, but we'll look forward to it. If we go about it the right way, then I'm sure we'll not have a problem."