The International Space Station (ISS) is in geosynchronous orbit around the Earth at a distance of 431km and a speed of 28,800 km/hr, which is quite fast.
So you would imagine that it would be quite difficult to snap photos of the Earth at that speed, especially as the Earth is spinning at the same time, let alone video, but an astronaut with the European Space Agency (ESA) has managed it.
The ESA has released a video showing time-lapse photographs of repeated lightning strikes in Romania, taken by the Nightpod camera, which is mounted in the cupola observatory of the ISS.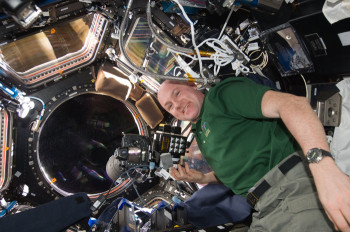 Unlike regular cameras, the Nightpod focuses on the same point above the earth and keeps the target firmly centred in frame during the exposure time, so that the final image is in focus and ultra-sharp, despite the motion of the space station.
Nightpod is hooked up to the space station's computers and its motors can be calibrated by the astronaut entering the space station's current altitude, yaw, pitch and roll, which change from time to time.
There is also an automatic mode, which enables the Nightpod to take a series of similar photos of the same target over time, so that they can be combined to make high-resolution maps of the Earth at different times of the day.
This video was made up of 49 images taken from the ISS in 2012 that have been stitched together, and the ESA says that the images would have been impossible to create without the Nightpod.