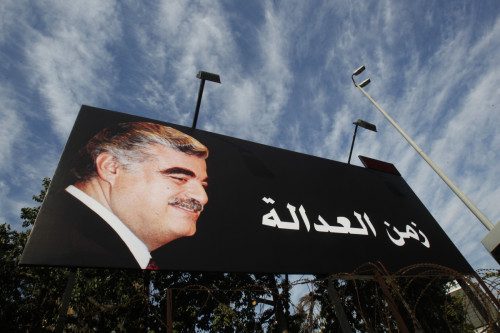 The assassination of the Sunni statesman Rafik Hariri in February 2005 transformed Lebanon's political landscape, and since then the work of a UN Special Tribunal to investigate his death has faced obstruction by Hezbollah and its allies at every turn.
With the tribunal getting underway on 16 January, there has been much speculation as to how Hezbollah will react, and what effect this will have on an already fragile Lebanon.
Just hours before the prosecution opened its case, however, a suicide car-bombing in the Bekaa Valley town of Hermel, a Hezbollah stronghold, killed five people and highlighted how the organisation has far more significant worries in 2014 than an in absentia trial in The Hague.
Chief amongst these concerns for Hezbollah's leadership is the fact that, since it announced its military involvement in Syria in the spring of 2013, it has been faced with a strength-sapping urban conflict against Syrian rebel groups in Damascus and its suburbs.
Whilst recent infighting between Islamist rebel brigades, and an ever-growing influx of foreign Shiite fighters from Iraq and elsewhere, is allowing the Assad regime to regain ground, the conflict remains a significant logistical challenge for Hezbollah which has seen experienced commanders and hundreds of fighters killed.
As a result, the perception of Hezbollah's military power, which grew enormously when it was able to claim victory (however erroneously) following the 2006 conflict with Israel, has been badly compromised. Even amongst its supporters, the sight of young Shia men returning from Syrian battlefields wrapped in vivid yellow flags has led to some muted anger about the cost of the campaign.
While in the long term the combat experience gained by Hezbollah's cadres in Syria is likely to increase the organisation's fighting strength, there can be no doubt that in the immediate future the attention of much of the organisation's military hierarchy will be focused away from Lebanon.
At the same time, Hezbollah's political opponents are voicing increasingly vocal domestic opposition to the group over its role in Syria growing throughout 2013.
Despite reports suggesting that Saad Hariri's Future Movement will join with Hezbollah in a new cabinet, the issue has driven a political crisis in Lebanon which has continued since the collapse of Prime Minister Nijab Mikati's government in March 2013. With parliamentary elections due in November of this year, Hezbollah's political wing has a difficult task ahead of it.
For many organisations these concerns alone would likely be considered more important than the symbolic trial of party officials who will never be arrested or face punishment regardless of the verdict in the Netherlands.
In recent months, however, these difficulties have been further compounded by the increasing ability and aspiration of Syrian jihadist groups like Jabhat Al-Nusra and the Islamic State of Iraq and Al-Sham to carry out attacks inside Lebanon, and by the failure of Hezbollah's security teams to prevent Sunni militants from carrying car bombs deep into its south Beirut heartlands.
The suicide car-bombing in the Shia town of Hermel on Saturday is likely to have emphasised this, and will be of great concern for Hezbollah's leadership. How it deals with this and the other issues highlighted, not a court case forecast to last months and even years, is where actions which will affect Lebanon in 2014 will be found.
Rupert Sutton is a Research Fellow at the Henry Jackson Society, where he focuses on the risks emanating from sectarian conflict and Islamist militant groups in the Levantine Region. He has a BA in War Studies from the University of Kent, and a First Class MA from King's College London