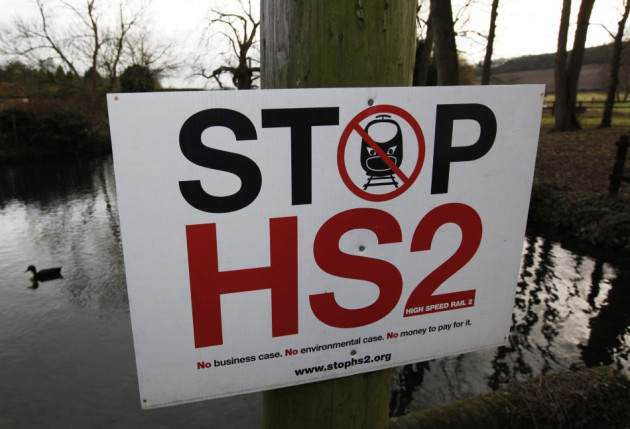 Controversial rail programme High Speed 2 (HS2), dubbed a motorway for trains, has been approved by the transport secretary.
Justine Greening, Secretary of State for Transport, has given the green light despite heavy criticism of the project.
"Britain should embark upon the most significant transport infrastructure project since the building of the motorways by supporting the development and delivery of a new national high-speed rail network," she said.
"By following in the footsteps of the 19th-century railway pioneers, the government is signalling its commitment to providing 21st-century infrastructure and connections - laying the groundwork for long-term, sustainable economic growth."
A bill will be debated in parliament. Labour is broadly supportive of HS2, having initiated the scheme before it was ousted from government in 2010.
The first stage of HS2 will run from London to Birmingham, cutting through picturesque countryside and many of the ruling Conservative Party's safe parliamentary seats.
The second stage will extend to Leeds and Manchester.
Work on the first stage will be completed by 2026, with the second stage up and running by 2033.
It is estimated to cost £37.2billion, claims the government, and will generate £34 billion in ticket sales over 60 years.
The government has argued that there would be broader economic benefits for the whole country because of the link.
A journey from Birmingham to London would take just 49 minutes.
High Speed 1 is the Eurostar link from London to France.
HS2 'Hugely Expensive' and 'Flawed'
Critics have rounded on HS2 as economically unsound and environmentally damaging.
Tory MPs whose constituencies are affected by the route have been vocal in their opposition.
Cheryl Gillan, the Welsh Secretary and MP for Chesham and Amersham, said she will not support HS2 in a parliamentary vote.
"If the project goes ahead, I would resign the whip unless the prime minister tells me he would allow me to vote against it," she told constituents in a letter.
Dominic Grieve, the attorney-general and Beaconsfield MP, has also spoken out.
The Institute for Economic Affairs (IEA) has dismissed government claims that HS2 would be good for the economy and taxpayers.
"The government is ploughing ahead with a hugely expensive project whose economic case is flawed, whose time-savings claims are dubious and whose environmental case is highly suspect," said Richard Wellings, deputy editorial director of the institute.
"The government should make one last effort to reconsider its position before it saddles the nation with a high-speed disaster."
IEA also claims that HS2 will cost taxpayers £1,000 a person.