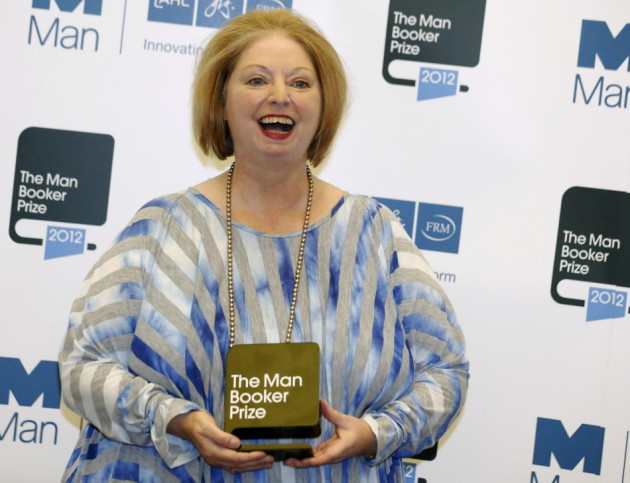 Hilary Mantel has created history by becoming the first woman and the first British novelist to win the prestigious Man Booker Prize twice.
Mantel won the prize for the novel Bring up the Bodies, the sequel of Wolf Hall which also clinched the coveted literary prize in 2009. Mantel receives £50,000 as part of the prize.
Winning the award, Mantel, 60, quipped that "you wait 20 years for a Booker Prize and two come along at once," adding: "I know how privileged and lucky I am to be standing here tonight. I regard this as an act of faith and a vote of confidence."
Previously the Australian author Peter Carey and South African novelist JM Coetzee won the award twice; however Mantel becomes the first author to win it for a straight sequel.
Speaking about Mantel's prize, the chairman of Booker judges Sir Peter Stothard said: "This double accolade is uniquely deserved."
Stothard went on to call Mantel "the greatest modern English prose writer," and said the final decision was made after a lengthy and forensic examination of her book.
"We are very proud to be reading English at the time she is writing. I don't think I've read any English novelist in recent years who has such complete control over the way she uses prose to do what she wants to do, like a singer or a pianist".
Bring up the Bodies is the sequel of the trilogy about the story of Thomas Cromwell, an adviser to King Henry VIII. While the first instalment dealt with the rise of Cromwell, the second novel charts the bloody downfall of Anne Boleyn. Cromwell's story will continue until his execution in 1540 in the third book to be named The Mirror and the Light.
"This is a bloody story about the death of Anne Boleyn, but Hilary Mantel is a writer who thinks through the blood. She uses her power of prose to create moral ambiguity and the real uncertainty of political life," said Stothard at London's Guildhall while announcing the winner.
In terms of sales, Mantel's second novel has so far sold 108,342 copies since it was published in May by the HarperCollins imprint Fourth Estate.