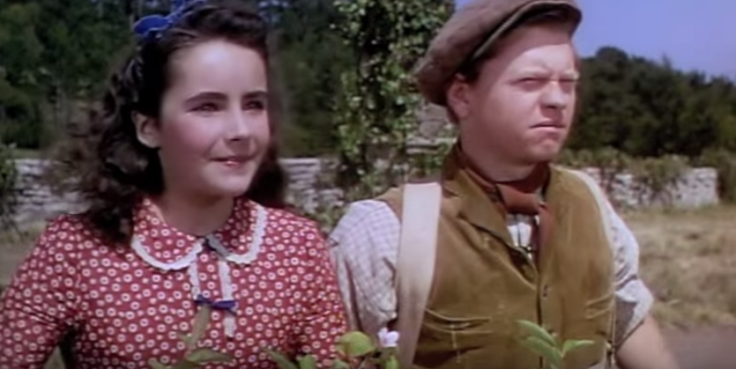 According to a new biography of Mickey Rooney, the late Hollywood had an adulterous affair with Elizabeth Taylor when she was 14 and he was in his mid-20s. According to The Life and Times of Mickey Rooney authors Richard A Lertzman and William J Birnes, Rooney's second wife Betty Jane caught her husband engaged in a sexual act with Taylor.
Pam McClenathan, a friend and caregiver to the actor's second wife, Betty Jane, told the authors that Betty Jane had gone to pay her husband a surprise visit at the Hollywood film studios. Upon opening his dressing room door, she discovered Taylor and Rooney in a compromising position.
"Betty Jane… told me she went to visit Mickey at [an LA film studio] around June 1946. She had [the couple's first son] Mickey Jr in tow and was pregnant with [second son] Timmy… When she opened the door to the dressing room, Elizabeth Taylor was on her knees giving Mickey a blow job."
The affair is said to have happened during the filming of National Velvet in 1944, which starred both Taylor and Rooney. Betty Jane went on to divorce Rooney and "got a top attorney and big settlement, but [she] really was not happy after that. She wanted a faithful husband," McClenathan said.
According to the book, an agreement was drawn up to pay Betty Jane $15,000 per year for 15 years — plus $12,000 in medical and legal costs. But she went back on the agreement after her lawyer accused Rooney of fraudulently "hiding his real income and assets". Rooney then also paid $25,000 in cash to settle the dispute, according to a report in Page Six.
Five foot three Rooney was married eight times — for the first time to his MGM co-star Ava Gardner. He also filed for bankruptcy in 1962, having burnt through the $12m he had earned in his career.
Rooney died in April 2014, at the age of 93. Taylor died in March 2011, aged 79.