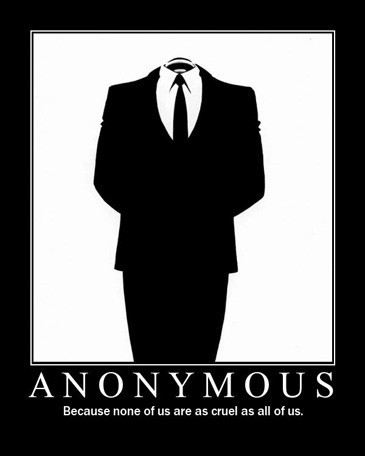 Following widespread reports of unlawful uses of force by New York Police against Occupy Wall Street protesters, reports have emerged suggesting the U.S. Department of Homeland Security has warned Wall Street to beware future revenge attacks from the hacker collective Anonymous.
The warning came after Anonymous' ongoing support for the Occupy Wall Street protest took a darker tone following a series of alleged clashes between protesters and NY police.
Most recently reports emerged suggesting that as many as 700 protesters had been arrested over the weekend while participating in a march across the Brooklyn Bridge. Anonymous subsequently posted a series of videos showing the march and a number of the arrests.
The videos followed a previous set of footage published by Anonymous' AnonOps website, showing alleged incidents of police violence against Occupy Wall Street protesters. One of the most reported incidents showed a NY Officer use pepper spray on a group of seemingly peaceful female protesters.
Following the incidents Anonymous made its first threats indicating it may enact a series of revenge attacks for the polices' use of violence.
The arrests and incidents all occurred during Adbusters' Occupy Wall Street protest. The protest began roughly three weeks ago and though no uniform end goal has been issued by the protesters, the campaign is reportedly being enacted to protest Wall Street's current influence on American policy.
Though Anonymous has not yet carried out any revenge cyber attacks for the police treatment of the protesters, such behaviour would be consistent with its past exploits. Previously the collective had enacted revenge hacks and distributed denial of service attacks against a number of governments and companies for what it perceived as crimes against the general public.
These crimes had included everything from reform policies that could monitor or censor the internet, to law enforcement agencies arresting alleged Anonymous members.
A live video feed showing the Occupy Wall Street protest can be viewed here.